Growthstar Spider 4X 200w MCOB LED Grow Light Review
|
Unlike your standard LED grow light that uses individual diodes spread out evenly across a surface, MCOB or Multiple Chip on Board LEDs are grouped in small clusters and offer a wealth of benefits. Because of their unique design, the light spectrum is blended more evenly, modular designs are possible, and you'll likely notice less heat output with better yields and increased quality.
Although MCOB technology is still quite new, it's already seen some incredible results from horticulturists who've switched over, and we're predicting 2016 to be a trend-setting year with these kinds of LEDs.
Introducing – Growthstar
Based in Vancouver, British Columbia, Growthstar has been making a name for themselves as a manufacturer of some of the best grow lights on the market. By taking a look at their COB Grow Lights website, you'll see that it's packed full of valuable information regarding growing with COB and MCOB technology.
We had a unique opportunity to get our hands one of the Growthstar Spider 4X 200w MCOB LED Grow Lights to test it out and see what we thought about it.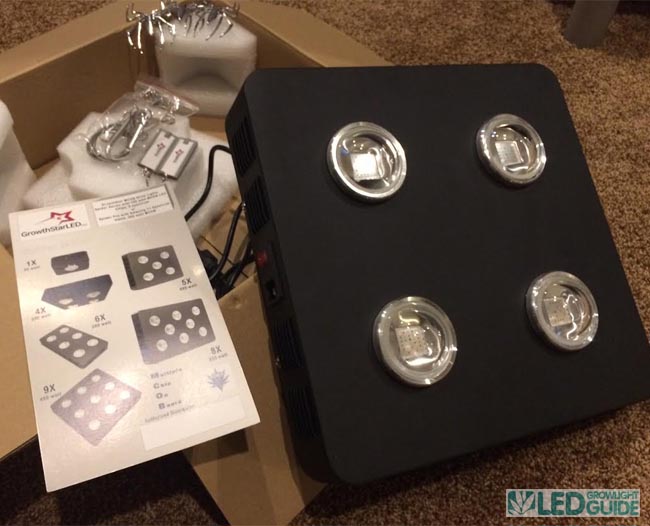 Unboxing and Setup
Within a few days, we were excited to receive the Spider 4X MCOB LED Grow Light in a well-padded box with an assortment of accessories. Included in the box were two mini key chain flashlights, a few spider emblems, a power cord, hanging kit, and of course the light itself. We were very happy to feel that the fixture was quite "solid" feeling, with a metal construction that felt cold to the touch. We didn't waste any time – we plugged it in and turned on the red switch. Right away we noticed that the light seemed to have a white, light purple hue rather than your typical magenta or fuchsia color that you'd see a standard 3w or 5w LED panel produce.
Equipped with four metal eyelets, each on one of the top corners, it's a simple and straightforward process to get it suspended in your growing environment. One little thing we were glad about was the hanging kit that was included. The wires were coated in a clear, protective material without any metal burs or sharp ends. We can't tell you how many times we've cut ourselves on a frayed cable right out of the box!
Heat and Cooling
Although it only took about 5 minutes to setup, we really wanted to see how it did with heat output. In order to do this, we let it run for a few days at an 18 hours on and 6 hours off schedule – a standard veg cycle.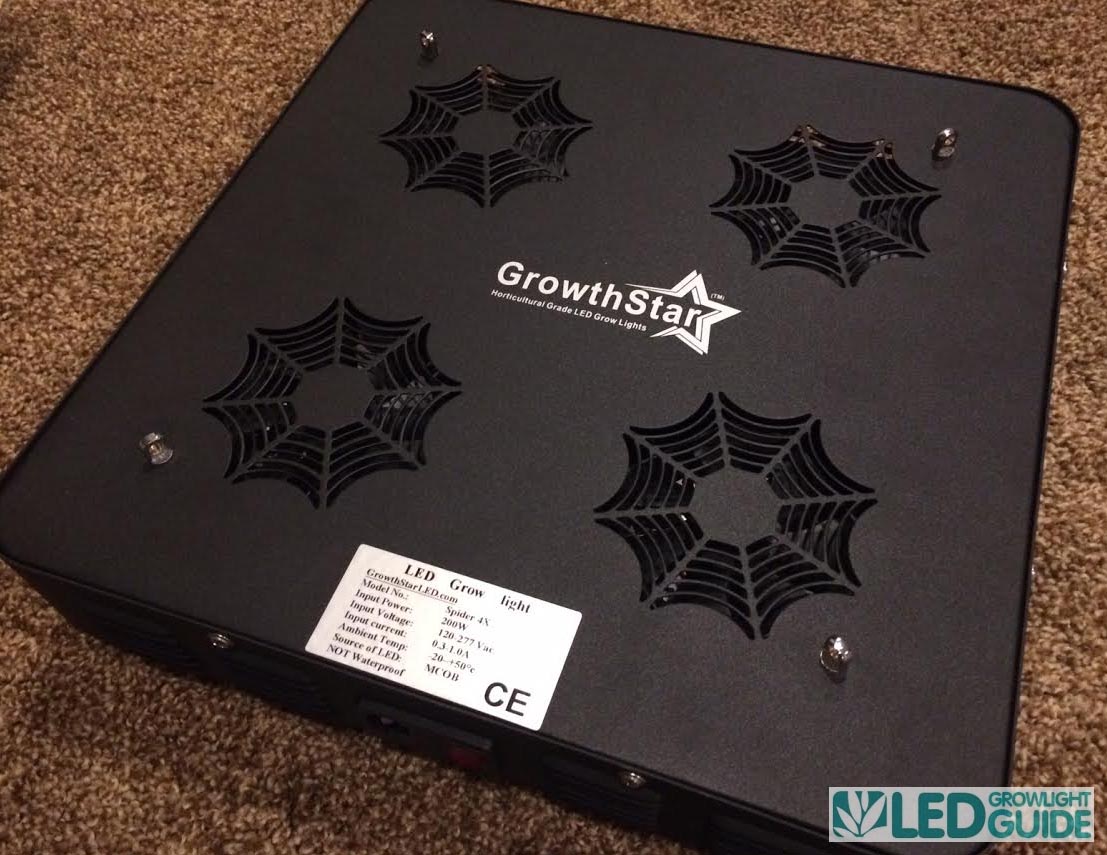 LEDs are notorious for running much cooler than your typical HID lighting setup. But this isn't always the case if there isn't proper heat management in place. As we mentioned before, we initially noticed that the metal casing was "cold to the touch". There's actually a reason for this – the case is setup to perform like a heatsink and dissipate heat so that the chips and drivers all operate within an acceptable range for the best efficiency. Pretty cool!
Additionally, each MCOB has it's very own dedicated cooling fan that's constantly running when the fixture is turned on. This, working in conjunction with the ample amount of ventilation on all ends of the case, give the Growthstar Spider a definite advantage. In fact, the unique cooling system is patented – you won't find any other LED, COB, or MCOB grow light that offers it.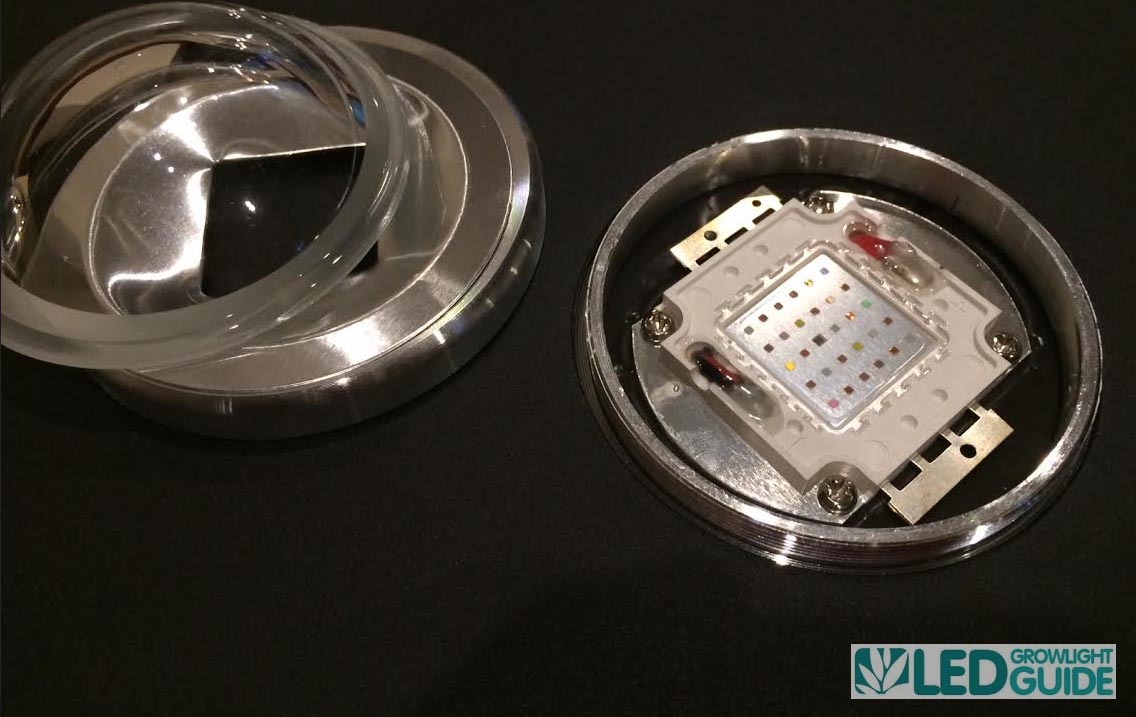 Spectrum and Coverage
With a broad spectrum ranging from 380 to 850 nanometers, the Spider 4X MCOB provides a proper blend for all stages of growth and virtually any type of plant. Unlike low-quality 3w or 5w panels, you'll instantly notice the unique "purple blanket" that this light provides for the garden.
Since MCOBs are designed with a close-proximity light source, you'll notice improved light mixing that does a great job at providing bright and balanced lighting to the seedlings, clones, leaves, and flowers below. Built with four unique convex lenses, the average intensity of each individual spectrum is drastically improved. These lenses are fully removable with a simple twist, and each paired with their own reflector surface that assists in the 60/120 degree beam angle.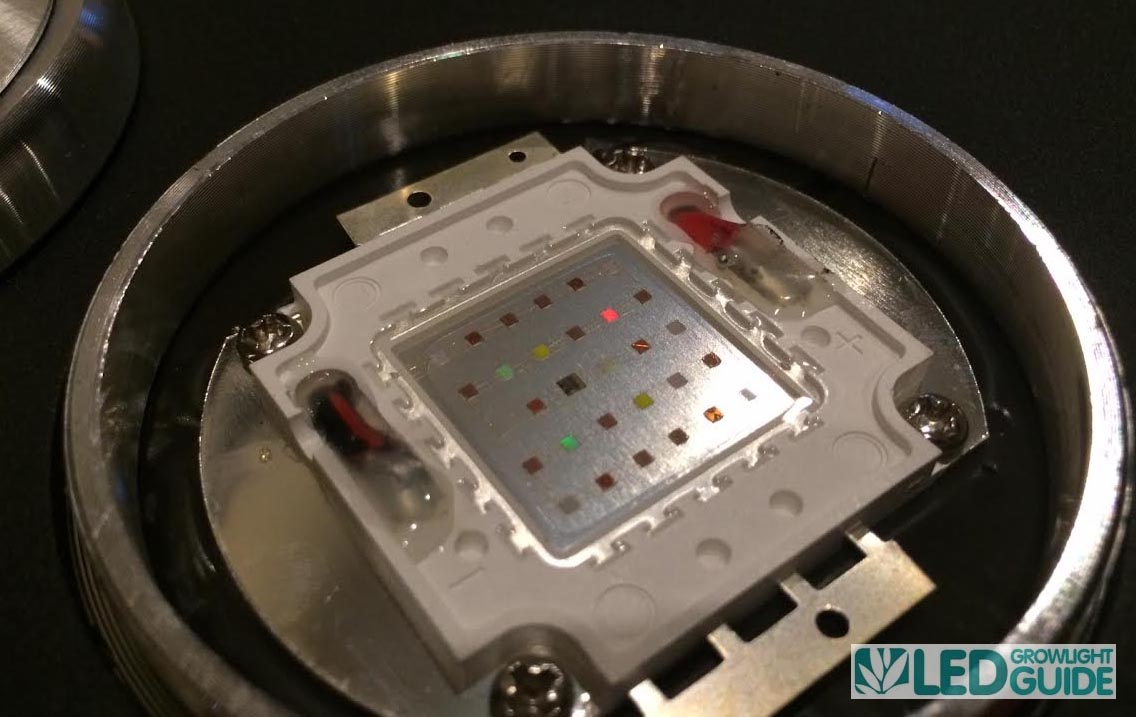 Although the intensity can't be justified by a simple photo, Growthstar provides actual PAR readings to give you an idea how the amount of usable light each panel emits. At 200mm, 1829.2 umols are produced which is way more than you need for fantastic results for flowering plants.
Coverage
Measuring roughly 11.5″ x 11.5″ and 2.3″ in height, the Spider 4X MCOB is designed to cover roughly 9 to 16 square feet – meaning that it'll likely perform best in a 3′ x 3′ or 4′ x 4′ tent. We'd recommend keeping it more towards 3′ x 3′ if you're looking for the best results for the flowering stage. Growthstar recommends hanging it around 12″ to 36″ from the canopy of your garden, depending on the stage. Obviously the closer it is, the brighter and more intense it will be for the plants.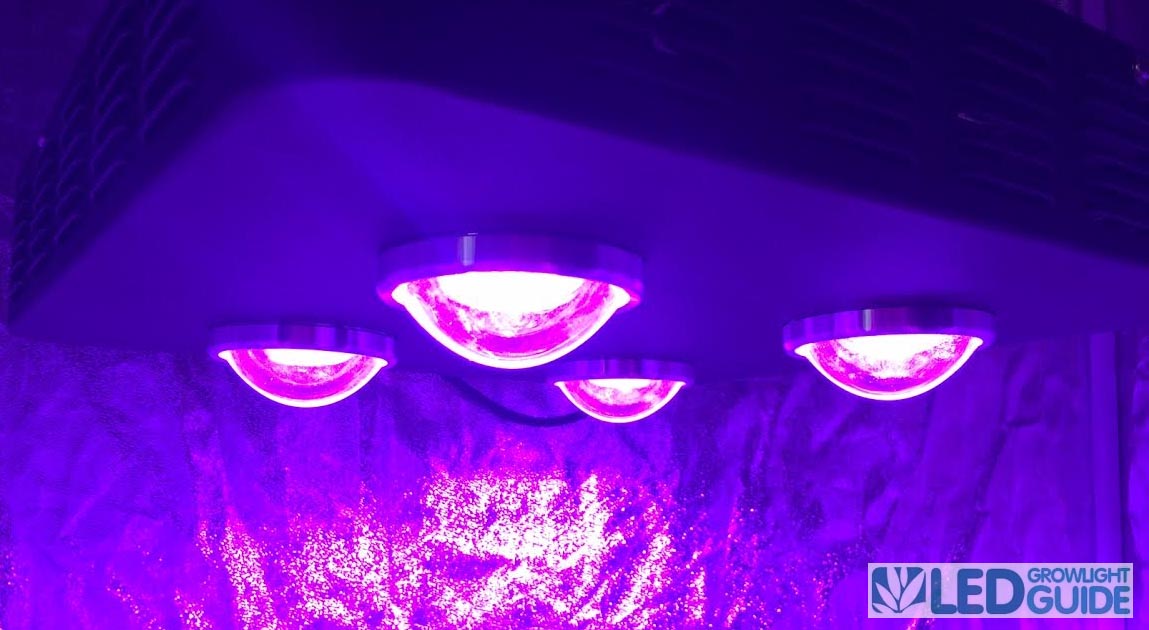 Power Consumption
Although each of the four MCOBs are 108 watts, the actual power consumption for the entire panel is around 200 watts. Since each MCOB isn't driven to it's maximum, and there are drivers and fans to consider, they've given an honest and fair representation of the light you're buying. It's a definite good thing that the LEDs aren't driven to their maximum. If they were, the light wouldn't last very long!
Quality and Longevity
Rated for a 50,000 hour lifespan, the Spider 4X 200w MCOB will provide years of growth cycles before you need to even think about replacing it. With the patented heat management system in place, lightly driven MCOBs, and sturdy build, it's apparent that Growthstar wasn't going to put their name on just any light. Additionally, it comes included with a 60 day money-back guarantee as well as a generous 3 year warranty period.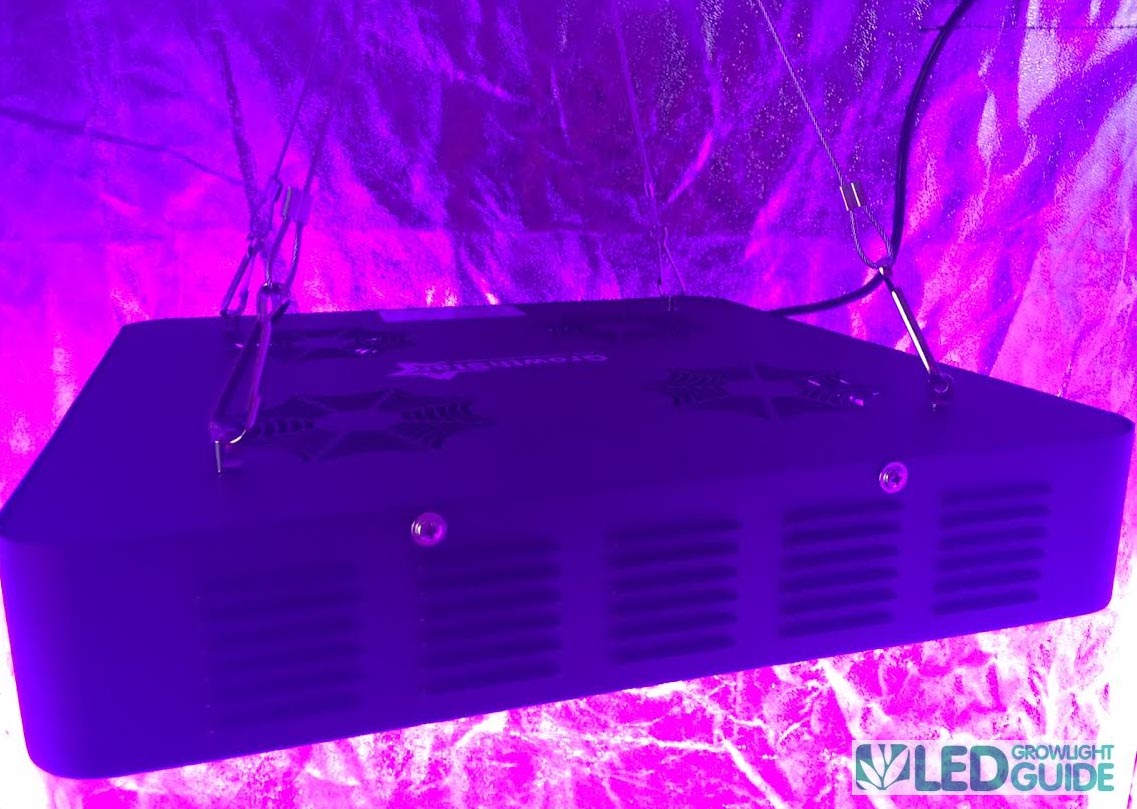 Final Thoughts
Growthstar created the Spider 4X 200w MCOB LED Grow Light in order to provide the latest in plant lighting technology to growers all over North America. We have to say, we're quite impressed with it, and are happy to see a lot of smart and meaningful features built-in.
The spectrum is properly balanced and the light pattern seems to be much more even than any other LED grow light we've ever used.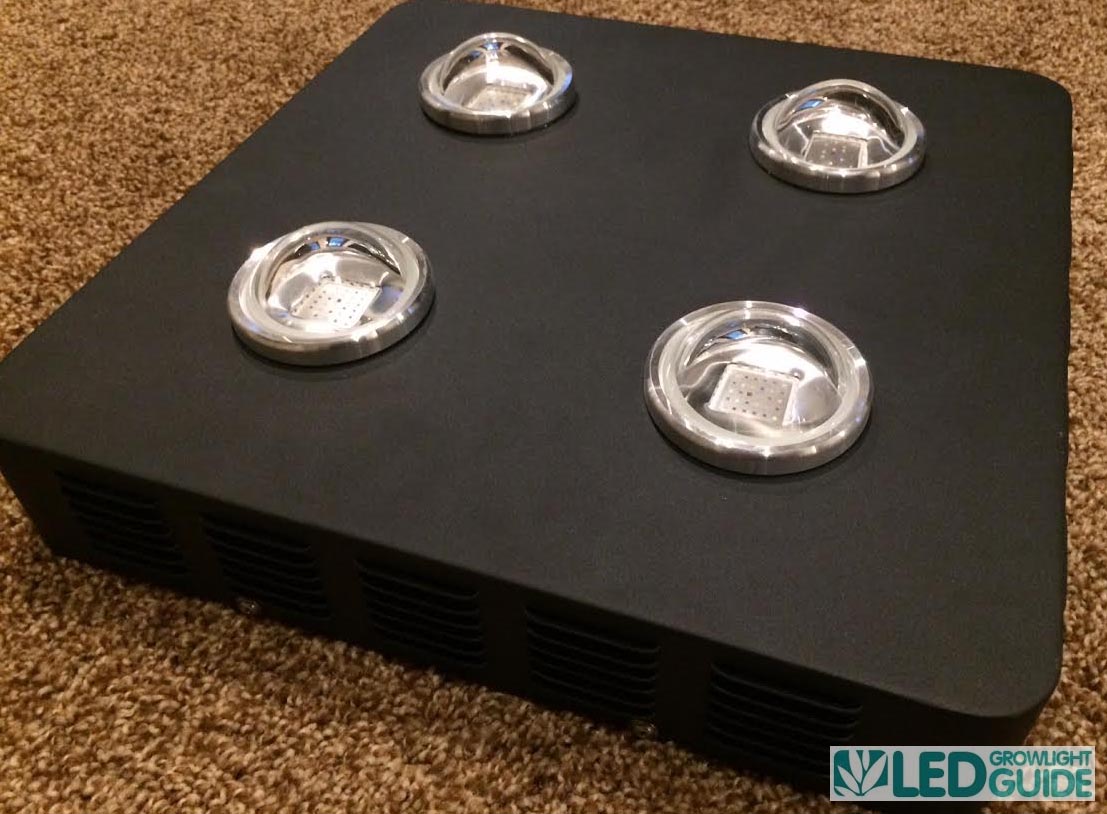 The cooling system is truly unique and does a great job keeping the internal components running within an acceptable temperature range at all times. Even in closed or tightly fitting spaces, there's very little heat output, meaning that you'll likely save on additional cooling while improving the energy-efficiency of your indoor garden. Although it's only been a few days since we've set it up and started using it, we must say that we're totally impressed.
If you're in the market for COB or MCOB LED Grow Lights, we highly recommend checking out what Growthstar is doing for the industry. They offer phenomenal customer support via phone or email, and are constantly updating their blog and Facebook page with real grow light trials and factual data that other manufacturers simply aren't providing.