Kessil H380 Spectral Halo II LED Grow Light Review
|
As an upgrade from their previous H350 grow light, Kessil has created the H380 Spectral Halo II LED Grow Light to provide a more powerful, full-spectrum alternative that's suitable for all stages of growth. It's a small, lightweight, and well crafted fixture that's packed with a multitude of excellent features to provide growers with all they could ask for. We finally had the opportunity to test the H380 out for ourselves and have to say – we were quite impressed.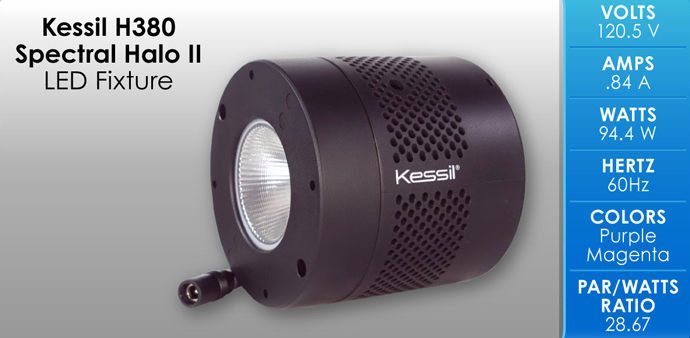 Switch Between Spectrums
With the Kessil H380 Spectral Halo II's ability to switch between spectrums, growers can offer a complete blend of light (including UV) to their garden. Switching between the two spectrums couldn't be easier. There's a small dial knob located on the top-side of the fixture. Twist it to toggle between the two settings.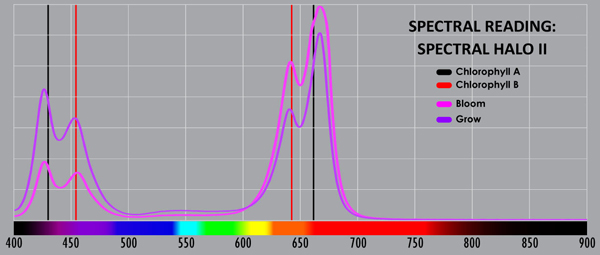 The "Extreme Purple" spectrum is ideal for the vegetative stage when your plants are focusing on leafy, green growth. It's a proprietarty blend that's catered to help the plants develop lush, fuller growth, and improve overall vitality.
The "Extreme Magenta" spectrum is ideal for the flowering stage when your plants are focusing on producing huge, ripe flowers. This setting is designed to target the plants yield and quality by offering a fine-tuned balance of the most essential colors of light.

Plenty of Power
As an improvement to the H350, the Kessil H380 LED Grow Light is 30% more powerful to offer the best light penetration and intensity. The H350 "Deep Purple" uses 15,000 mW, whereas the H380 "Extreme Purple" uses 19,300 mW. This is a 28.70% increase. The H350 "Magenta" uses 14,000 mW, whereas the H380 "Extreme Magenta" uses 17,800 mW. This is a 27.10% increase. They set out to improve the power so the fixture could provide higher quality harvests with more weight. If you'd like to see the exact comparisons, they're available on their website by taking a look at the H350 vs H380 charts.
Energy Use
Since it's no secret that the H380 provides more power than the previous version, it's still incredible energy efficient. From the wall, it will pull around 90 watts (maximum), which is a lot less than any HID setup. And for that matter, it uses less energy than most other LED grow lights that can cover the same square footage.
Coverage
With one of Kessil's H380 fixtures, you can achieve a decent amount of coverage. The footprint is around 2′ x 2′ when blooming, or around 2.5′ x 2.5′ when vegging. However, there's quite a bit of light penetration, which can be a real lifesaver in some cases where your plants may have grown too tall. 36 inches or 3 feet of penetration can be achieved when it's properly suspended above the canopy of your garden.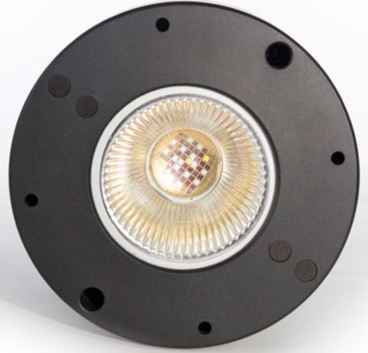 The reflector cup that reflects and directs the light has been fully redesigned. By taking a close look, you'll notice an improvement in design over the previous model. Also, Kessil integrated "Dense Matrix LED Technology" to boost the concentration of light. This way, the usable light reaches much deeper than just the canopy. Additionally, the spectrum is thoroughly mixed and blended properly with the use of the reflector to ensure the most uniform growth possible.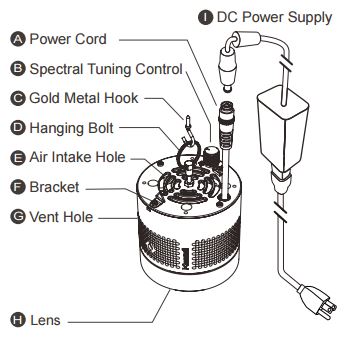 Installation and Use
Putting the Kessil H380 Spectral Halo II LED Grow Light to use is a very simple procedure. No previous experience is required, and getting it setup and ready for growing only takes a few minutes. First, familiarize yourself with the fixture by reading the included user manual. First, unbox the unit and remove all of the contents from the package. Next, hang the fixture 12 to 24 inches above your garden. It's equiped with a small hanging bolt to allow for a variety of hanging options. Then, plug it in and adjust the spectrum to your desired setting. Pretty simple and straightforward.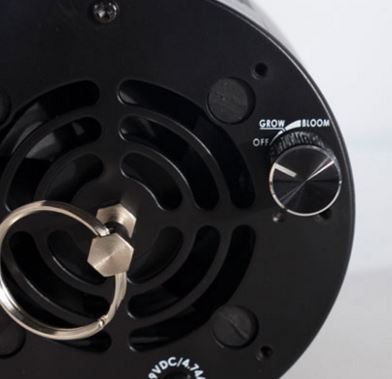 Safety
The safety instructions are a necessity to look over, as you don't want to mishandle or expose the fixture or yourself to certain dangers. Here are some things to keep in mind:
Do not use any other power supply than the one that's included and designed specifically for the H380.
Never use it outdoors. It should ONLY be used indoors.
Do not expose to extreme humidity or submerge in water.
Do not place it within close proximity to other objects.
Keep sharp things away from it.
Never cover or place objects on the power supply.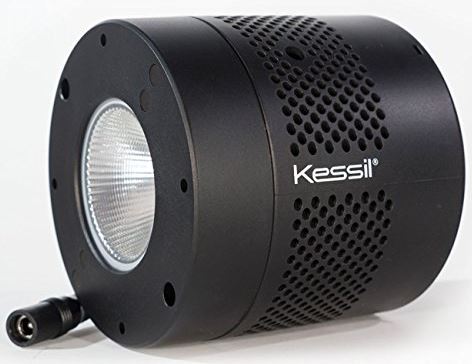 Final Thoughts
Kessil offers several improvements on their latest fixture, the H380 Spectral Halo II LED Grow Light. It's packed with more power for better coverage and improved penetration, all while still utilizing the most energy efficiency possible. Since it only pulls 90 watts, you can afford to have multiple fixtures running to cover a massive area if need be.
Maintenance is virtually non-existent, and the operation of the light itself is fantastic and easy to use. The spectrum is superior to any other that Kessil has previously released, and it promises to deliver stronger plants with lush growth during the vegetative stage, and bigger, more tasteful yields during the blooming stage. Overall, we wouldn't hesitate to recommend it to anyone looking for a great fixture that's built incredibly well.