Illumitex NeoSol DS 520W LED Grow Light Review
|
Illumitex is a manufacturer of some of the most impressive, high-end LED grow lights on the market. Their top of the line and newest fixture is the NeoSol DS 520W LED Grow Light, that's a perfectly crafted blend of the latest LED lighting technology. It's suitable for all stages including germination, cloning, vegetative growth, and flowering. It's a fixture that lives up to it's name as one of the most impressive panels that fully replaces a 1000 watt HID.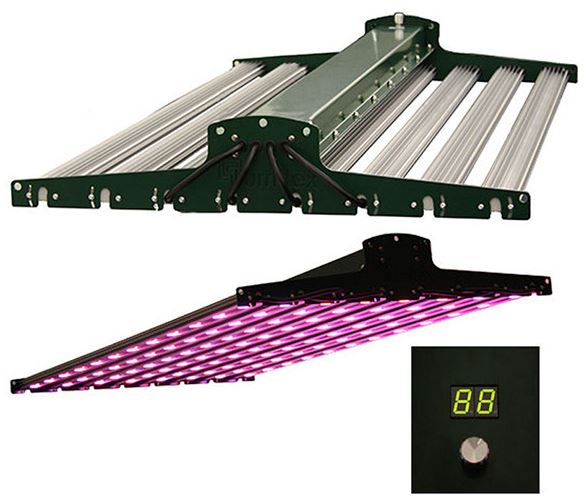 The Guarantee
Illumitex packaged the NeoSol DS 520W LED Grow Light with their very own '15-15-15′ guarantee. This promises that you'll achieve a 15% yield increase over 1000 watt HID equivalent lighting, an increase of as much as 15% faster growth, and 15% higher PPFD (Photosynthetically active radiation) on the canopy of your garden. That's a pretty impressive guarantee, it's nice to see a company standing so strongly behind their product – especially in the LED industry.
Spectrum and Diodes
The Illumitex NeoSol DS 520W LED Grow Light is comprised of 96 different 5.4 watt diodes. These are ultra-efficient Illumitex Surexi F3 LED arrays that utilize drivers running at 520 mA. The led bars measure 48 inches and are rated for a 60,000 hour lifespan. To give you an idea for how long this is, 60,000 hours makes for approximately 12 years of usage if the light is turned on for 57% of the time.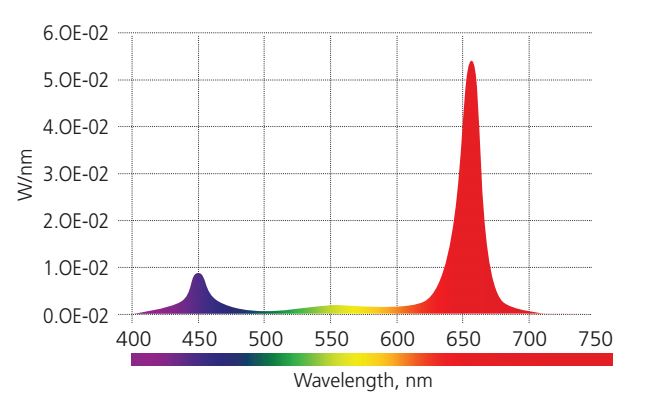 For proper growth in all stages of the plant's cycle, a wide but full spectrum is required. The NeoSol DS is built with Illumitex's very own Surexi F3 Spectrum for a wide blend of specific colors, and a 50 degree lens angle. The blue has been set at 11% in a range of 400 to 499 nanometres. The green makes up for 7.7% of the spectrum from 500 to 599 nanometres. The red is a majority of the spectrum with a range from 600 to 699 nanometres at 81%. And lastly, the far red from 700 to 780 nanometres makes up only 0.3% of the spectrum.
Wattage/Power Output
Although the NeoSol DS will surely outperform a 1000 watt HID, it's important to know the actual wattage it pulls from the wall while in operation. In fact, it uses 520 watts which is nearly 50% the usage of your typical HID setup. This provides for a quicker return on your investment when compared to the cost of other panels.
Price and Value
Considering the energy savings potential with the Illumitex NeoSol DS, the high price tag of over $2,000 can seem a bit more understandable. It will last for over 10 years, and uses half the energy of your typical lamp. Additionally, there is no maintenance, no bulbs to change or replace – it's a smart investment for those who expect to grow on a regular basis.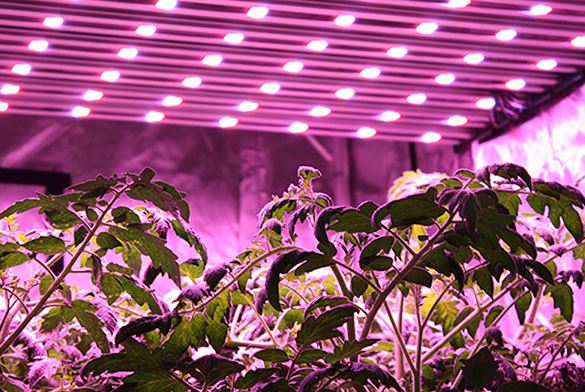 Runs Cool and Silent
Unlike the standard high pressure sodium or metal halide light, LED panels run much cooler. This holds true with every Illumitex light they create. In fact, it generates half the heat than HID, so you can expect to save some other costs when it comes to ventilation issues in your growing environment. Although it's always recommended to have a fresh air intake, you won't need any powerful inline fan or cool tube to keep the fixture from becoming too hot. It does this without using any spinning fans, thus making for a completely silent panel that you won't even hear.
Meets the IP66 Standard
Your garden can become a very humid and wet environment that most lighting fixtures don't mix well with. Illumitex crafted the NeoSol DS to meet IP66 standards that makes it suitable for wet or damp locations. This isn't to say you can submerge it in the water, but you won't have to worry about getting mist or water on the lenses.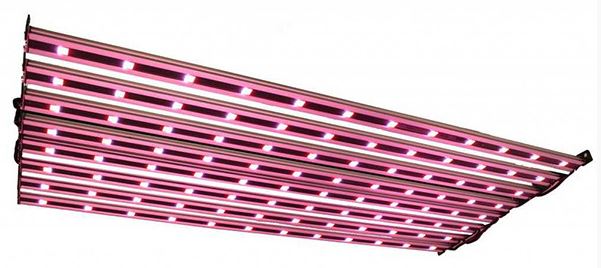 Dimmable, Slim Design
Measuring just 48.45″ x 24.0″ x 4.58″, it's quite thin and 'stackable', taking up much less vertical space – perfect for growing areas that require as much headroom as possible. Additionally, it weighs a total of 37 lbs, so make sure that your tent or ceiling can support it. Also, growers are pleased to find out that the fixture is fully dimmable from a scale of 10 to 100 percent. This way, you won't have to raise or lower the light, you'll just need to simply turn the dial to either intensify or dim the output.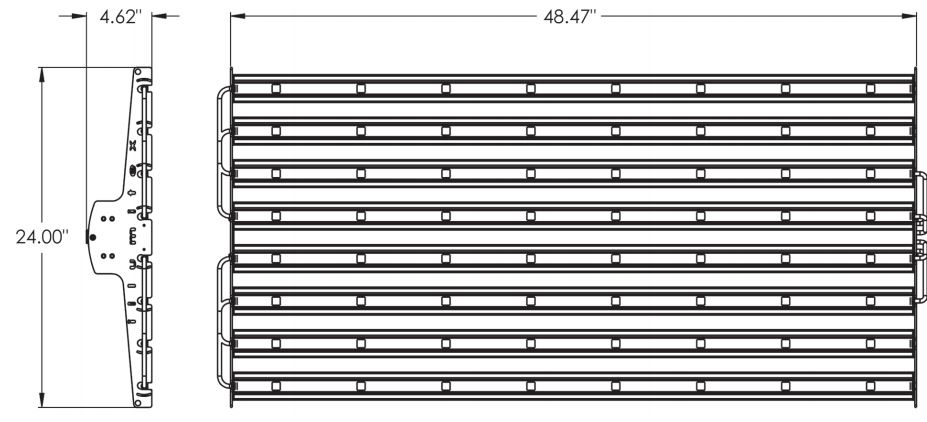 What We Didn't Like
Although it's somewhat difficult to find something bad about the Illumitex NeoSol DS 520W LED Grow Light, we've concluded that there are definitely two bad things about it. First, it's incredibly expensive and often far beyond the budget of most small scale or hobby growers. Second, the fixture isn't daisy-chain available, so if you have more than one in an area, you cannot link them together to use the same outlet. Sometimes a daisy chain feature is nice to have since it can save on clutter, but most people aren't too worried about it since they only want to purchase one.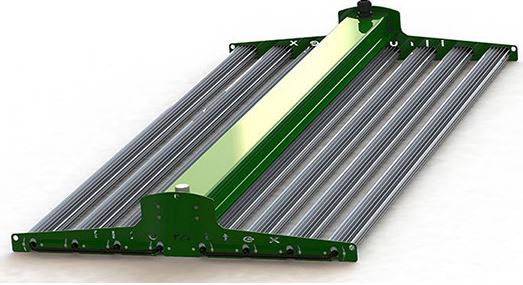 The Warranty
It's clear and obvious that Illumitex proudly stands by the lighting fixtures that they create. We say this because of their guarantee we mentioned earlier, but also because they include a generous 5 year warranty. This will give you assurance and a promise that it won't fail or under-perform.
Overall Thoughts
In conclusion, the Illumitex NeoSol DS 520W LED Grow Light is a clear winner if you're in the market for a top of the line grow light in the $x,xxx range. Although the price is expensive, it's a uniquely built fixture that promises amazing results with 15% increased yields while using half the energy you'd normally be using with a 1000 watt HID. One of the best things we like about it is that it's completely silent, and still stays incredibly cool at all times. Lastly, we're quite impressed that Illumitex includes a 5 year warranty with it. Overall, an excellent investment for efficient indoor growing.