Reviews of the Best PAR Meters for LED Grow Lights
|
LED Lighting is making a huge impact on today's industry. Once you realize the benefits of an LED grow light, it's clear to see why the technology is gaining so much traction. They're extremely energy efficient, much more than traditional High-Intensity Discharge Lights. They also produce a fraction of the heat, making them more functional in certain situations and also saving energy. LEDs are available in a wide variety of colors, durable and compact. From electronics to industrial, agricultural or even household environments, LED lighting has made a major impact.
So why doesn't the world run on LEDs yet? Well, since the components can be easily reproduced, there are several knock-off companies making poor-quality LEDs with poor quality light. In addition, since there is no third-party reporting agency, many manufacturers may not provide accurate light measurements and values to make their products seem more appealing. This misinformation leads to consumers buying lights that aren't actually suitable for their needs.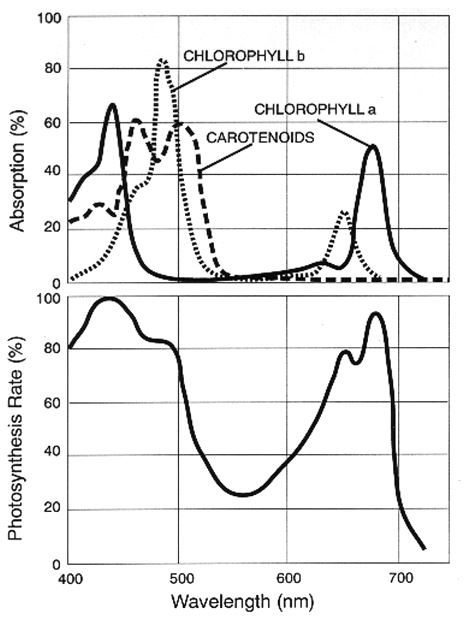 In an agricultural setting, LED lights need to produce a very specific type of light in order for plants to grow below them. This is known as Photosynthetically Active Radiation, or PAR for short. Many poorly-made LED lights are making their way into people's growing spaces that don't actually produce enough PAR for plants to grow. Gardeners, greenhouse managers, growth chamber growers are just a few examples of those who may need to know the quality and quantity of light in this context. In commercial or industrial settings, a certain amount of light is required for the safe operation of equipment and other safety regulations. In this context, it is important to know the amount of visible light produced from a light source, measured in lumens.
So, how do you know if the LED light you just purchased will actually produce enough appropriate light for your specific project or setting? Well, that's where PAR meters come in handy. PAR Meters (also known as Light meters or Quantum meters) are used to measure the various wavelengths of light that fall within a specific light range such as PAR or Lumens, in order to calculate how much light your LEDs are actually producing. In this review, we will cover three of the best PAR meters you can buy. Then, we'll help you choose the one that's right for you.
Hydrofarm LGBQM Quantum PAR Meter
Hydrofarm is a well-stablished hydroponics equipment supplier based out of California. If you're trying to keep your costs down without compromising on features, then definitely take a look at this PAR meter. It's one of the most affordable of the three we'll be looking at, but first we have to make sure that it will be suitable for your purposes.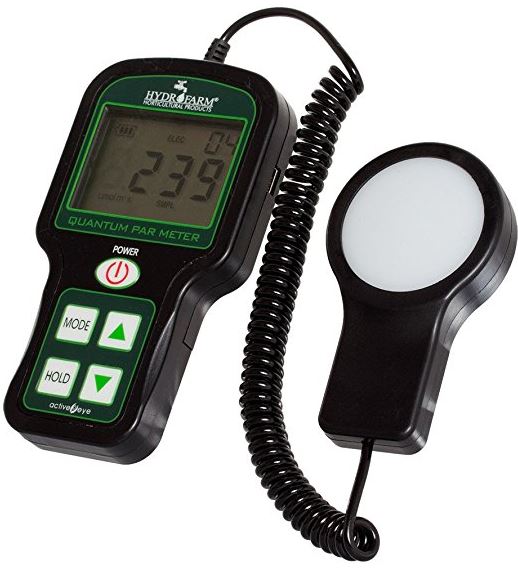 Design & Durability
The Hydrofarm LGBQM Quantum PAR Meter is a fully portable model. It's made of rigid black plastic, making it lightweight and durable. It measures in at only 6.7 x 4.4 x 2.4 inches and weighs just 7.7 ounces. The sealed buttons are easily usable in any conditions, and the simple LCD display is easy to use. The screen has large numbers making it clear to read. The screen isn't backlit, but it's pretty unlikely that you'll be using it in a dark environment.
The Hydrofarm LGBQM is not waterproof, so you'll want to take care to use it in a dry environment with low humidity.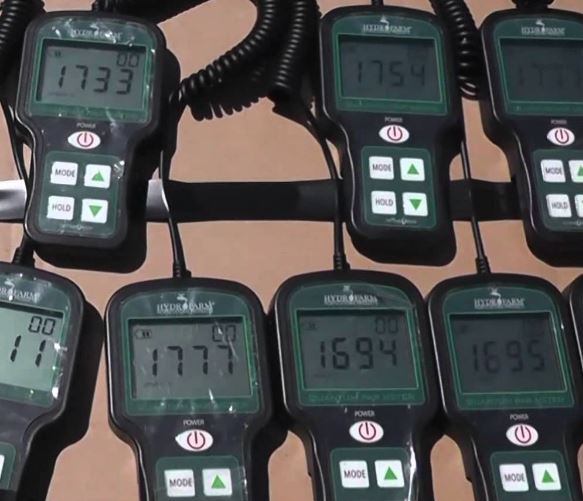 Battery
This PAR meter runs on a built-in lithium ion battery, allowing it to last a long time. Hydrofarm includes a standard USB cable to charge the meter. It charges to full power in about an hour when plugged into a charging station, or external power supply. After two minutes of inaction, the meter will automatically turn off in order to conserve battery life. An indicator will light up when the battery is running low.
Light Measurement
When you are ready to measure your LED light, you simply need to switch on the PAR meter, and quickly calibrate the light. Calibration is automatic, using either sunlight or electric lighting to make sure your readings are always accurate. Then, simply mount the actual sensor underneath the light where you'd like to measure. The sensor is attached to an ergonomic handle and a long cord which can stretch to reach the area you need to measure. The meter measures PAR flux in a range of wavelengths, from 400nm (blue light) to 700nm (red light). The meter can even read from 0 umol up to 10,000 umol of light.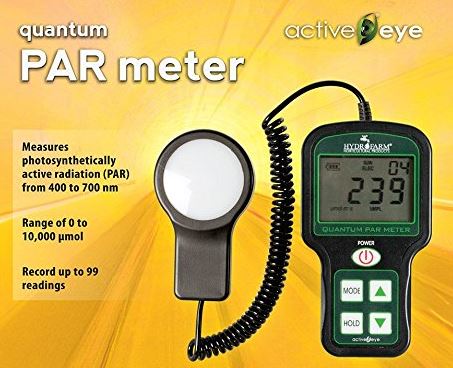 Data Logging
Measurements taken using the Hydrofarm LGBQM are presented as a constant linear response curve. Other meters produce results such as in a Gaussian response curve, however using a linear response curve provides higher accuracy of measurements. You can record up to 99 readings at one time using the LGBQM. The data-logging capabilities will capture each of these readings and can then be exported to a computer. Using Hydrofarm's proprietary software, the readings can be graphed analyzed.
Extech LT45 LED Light Meter
The Extech LT45 LED Light Meter is a highly versatile and fully portable option. Not only can it detect and measure light from LEDs of all colors, but also fluorescent, metal halide, high-pressure sodium and incandescent light sources. This light meter is best suited for offices, manufacturing plants, warehouses and other similar settings to ensure safety and regulatory compliances.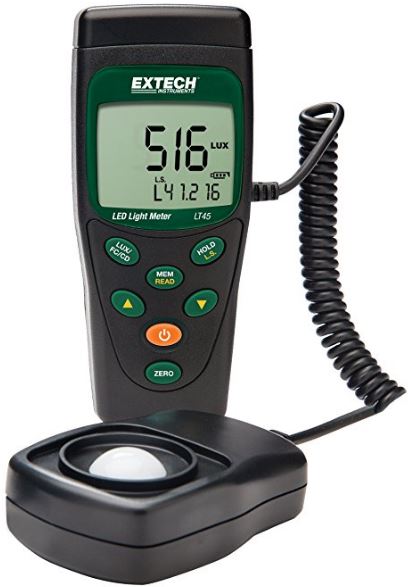 Design & Durability
The LT45 is a bit larger than the Hydrofarm model, with dimensions of 5.3 x 1.9 x 0.2 inches and 1.1 pounds of weight. The LT45 has a 4,000 count LCD display that is backlit. The measurements are very easy to read with the large, clear display. A tripod mount is also included with the device which allows for hands-free operation, and ensures a steady reading, by being grounded on the mount rather than in your hands which will inevitably move around.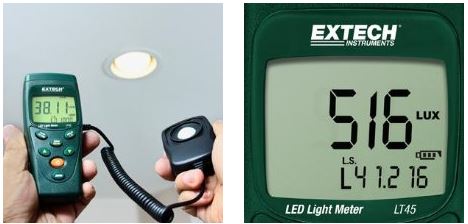 Battery
The battery life of the meter can be monitored using the small battery indicator on the corner of the LCD display. The Extech LT45 runs on an included 9V battery, the largest power source of the three meters. This battery will last you several days of measurements. But even if it'
Light Measurement
The Extech LT45 can easily switch between measuring Lumens (units: lux) and foot-candles (units: Fc) by simply pressing the LUX/FC button. The light sensor is housed within a protective cover and the coiled cable can expand up to 60 inches of length. Unfortunately, this meter does not measure PAR but it will give you an idea of how much and how bright the light your LED is producing, in lumens (lux).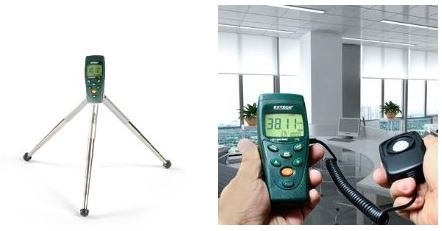 Data Logging
The meter can record foot-candles (Fc) from a range of 40, 400, 4000 and 40000 and in lumens (lux) from a range of 400, 4000, 40,000, and 400,000. The accuracy of each measurement is within just a 3% error margin, giving you confidence in each measurement. The Extech LT45 can also store up to 99 readings using its recall function. However, the values are not easily exported into software and will require manual entry. If you're just trying to get an idea of how your lights perform, this isn't a problem. But if you're performing analysis on a light, it may not be adequate. However, the meter does perform some basic statistical calculations and record the average, maximum or minimum of the logged readings using the max/avg/min mode.
Apogee Mq-200 Quantum Separate Sensor
The last light meter we'll be taking a look at is the Apogee Mq-200 Quantum Separate Sensor. This is the most expensive meter we have reviewed, but it is packed with great features to back up the higher price. Apogee is a leading producer of light sensors, and the Mq-200 certainly holds up that reputation.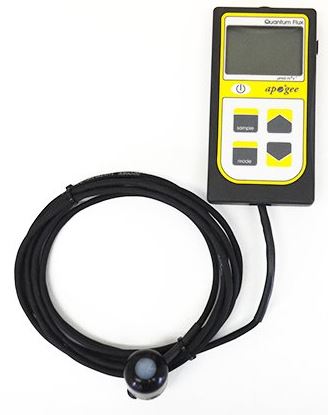 Design & Durability
The Apogee Mq-200 measures 4.9 x 2.7 x 0.9 inches, and weighs just 6.3 ounces. Comparatively, this model is nice and compact. The Apogee Mq-200 is also the most durable of the three meters in this review. Although the body itself is not, the dome-shaped sensor is fully weatherproof and waterproof. This makes the Mq-200 ideal for use in aquatic environments such as salt-water or freshwater aquariums, humid and wet outdoor climates, greenhouses or growth chambers. The cable is enclosed within a flexible santoprene jacket that is water resistant, stays flexible in cold conditions, and reaches up to 2 meters.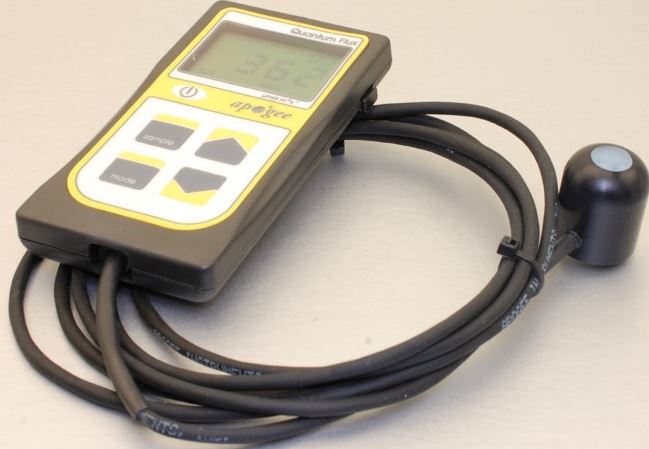 Battery
Unlike the other two meters, the Apogee meter is powered using a CR2032 coin cell battery. Although this is the smallest battery of the meters on this list, the Mq-200 is an efficient device. It will consistently last very close to the same amount of time as the other models. This is aided by the auto shut-off feature that's built in.
Light Measurement
The Mq-200 is a great meter for measuring Photosynthetically Active Radiation (PAR) being emitted from metal halide, LED, high pressure sodium, fluorescent lights and sunlight. The PAR range includes light from 400nm (blue light) to 700nm (red light). Simply mount the waterproof sensor under the light source you wish to measure, and you'll get an accurate reading in under a millisecond. The sensor has a 180-degree field of view and has an error value of less than 5%. With this level of accuracy, we feel pretty confident in this unit.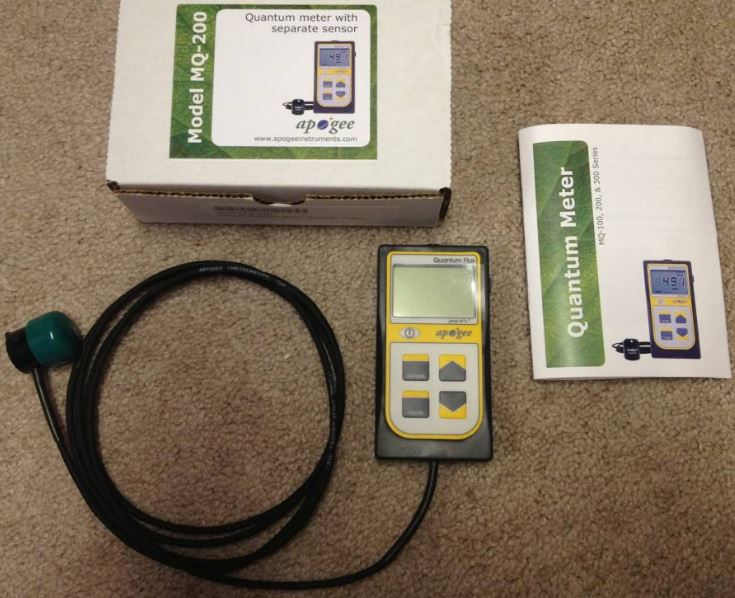 Data Logging
Like the other two meters in this list, the Apogee Mq-200 can store up to 99 manual measurements at one time, using the SMPL mode. Using the LOG mode, the meter will automatically take a measurement every 30 seconds. This is a great feature unique to the Apogee Mq-200. The meter will even turn itself on/off during this time to conserve battery. These values are viewable on the LCD screen, and also downloadable for external analysis.
Which PAR Meter Should I Own?
Not sure which route to go? There are a few key differences between all of these PAR meters, so we've made some recommendations for different uses.
If you just picked up a new set of lights, you're going to want to test them out. For this application, the Hydrofarm LGBQM is our top recommendation. It can accurately read the PAR output, so you can set up your lights and start planning out your room right away. This model is useful for lights that do not publish their par data, or ones that have an uneven light spread.
Often, high end grow lights have already been tested, so you already know what the PAR output is. In this case, you might only need to measure lumens to help you ensure your lights are set at the correct distance. For this purpose, the Extech LT45 is a great choice. This is ideal for high quality grow lights, as there is no question about the quality of the light output.
Is your grow room already up and running? The last thing you want to do is purchase an expensive new meter and damage it with humidity. For live grow rooms, the Apogee Mq-200's waterproof sensor will be incredibly useful. You'll be able to take measurements from any area of your grow room, without having to worry about damage. Many people consider this to be essential. Even though you can test all of your grow lights before bringing your plants in, once they start to grow they'll obstruct some of the light. This meter lets you get into all the tight spaces and make sure that you're providing your plants with what they need.