Area 51 RW-150 LED Grow Light Review
|
If you're looking for the holy grail of high-end led grow lights, Area 51 is a company that's worth looking into. One of their latest releases, the RW-150 grow light panel utilizes all of the most recent technology to produce some of the most impressive yields, all while using the least amount of energy possible. Unlike other LED manufacturers, Area 51 is upfront and honest about the electrical consumption, the power sources, and all of the minor but important details that many other manufacturers seem to always leave out.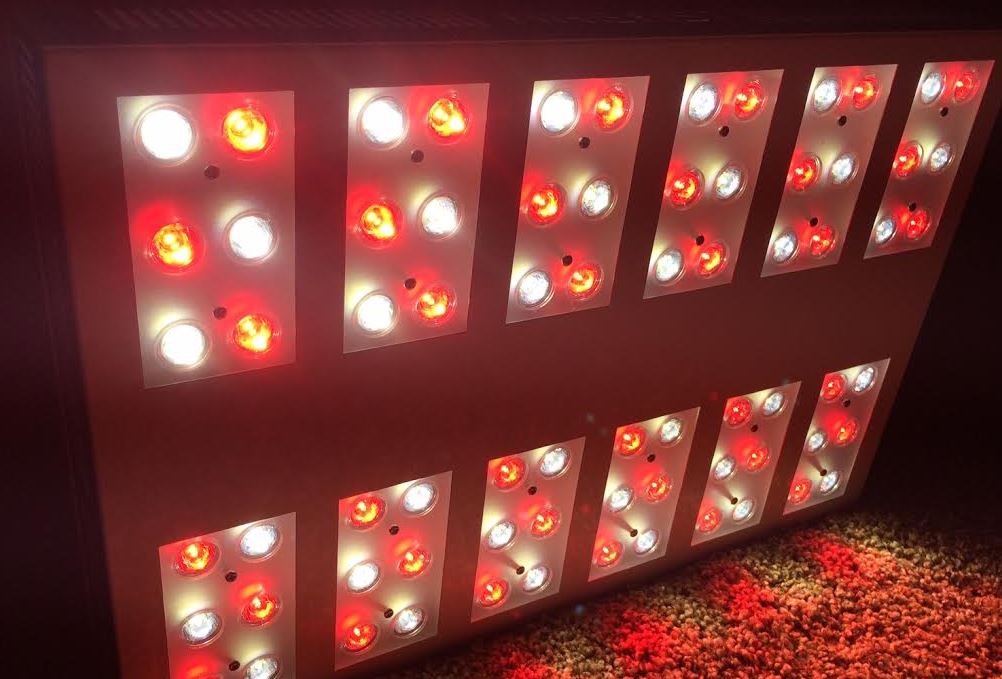 Size and Design
The RW-150 measures 12 inches wide, 18 inches long, and 2.75 inches thick. It shares the same case as their older models, but is painted in a beautiful white glossy finish.
Airflow and Cooling
With the constant operation of a grow light, you'll need reliable airflow and cooling that's designed to keep it operating properly for extended use. The RW-150 operates between 77 and 86 degrees Fahrenheit, or a few degrees above the ambient temperature in the room. Area 51 highly reccomends keeping your growing area between 70 and 77 degrees for ideal conditions. With one glance at the design of the RW-150, you'll notice plenty of ventilation to allow for the proper heat dissipation. Inside there are finned aluminum heat sinks along with two 120mm ball bearing fans that operate quietly at 10dba.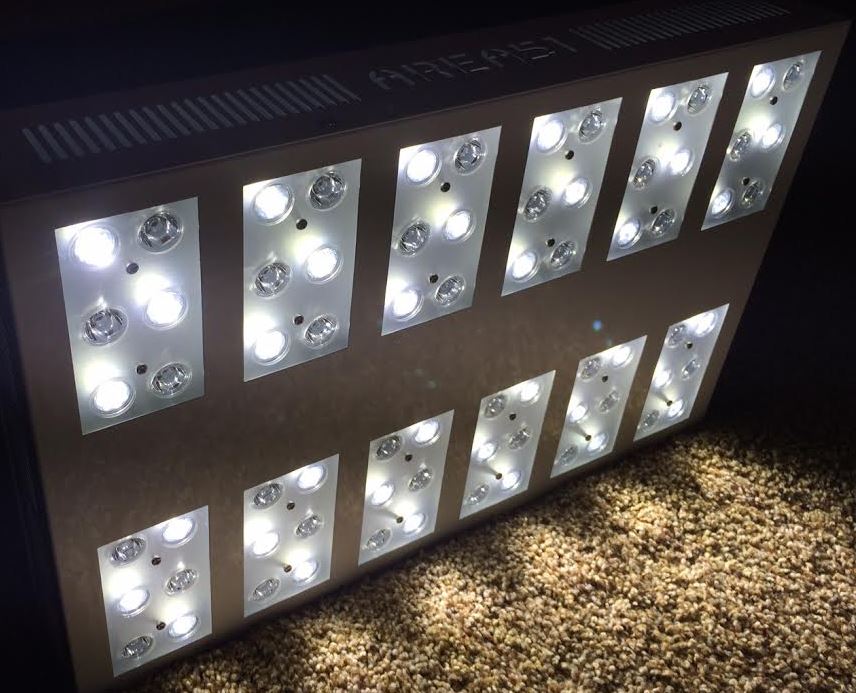 Electrical Consumption
The RW-150 operates on any voltage between 100 to 240 volts. No additional or specialized drivers or cords are required if you'd like to operate it at a different voltage. There are two different switches located on the upper side of the panel. One of them will turn on the "white" only setting, the other will turn on the "red" only setting. When they're both turned on, this is known as "flowering mode" and it will consume 150 watts of energy from the outlet. If just one switch is turned on, it will be operating in "veg mode" and use 100 watts from the outlet.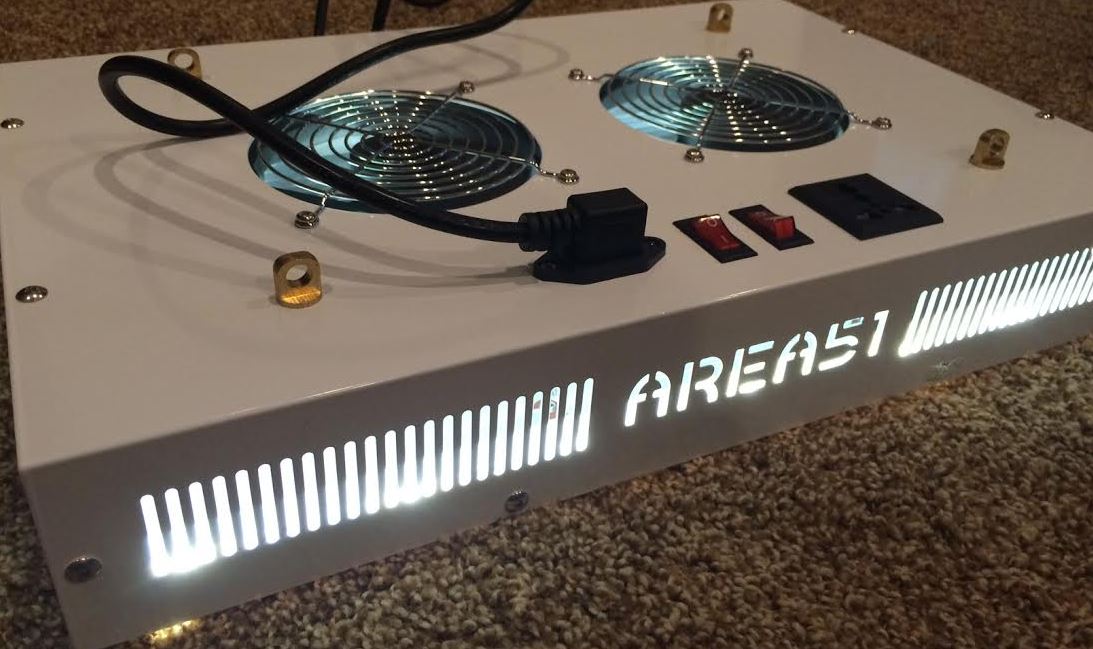 Daisy Chain Feature
A growing area can become very tightly packed, messy, and starving for space. With the daisy chain feature, it cleans up your cable management by allowing you to plug one lamp into the other lamp, for up to 6 units. This way, you'll only have a single cable going from your lights to the wall outlet, keeping a neat and tidy appearance without tangled or excessive cords.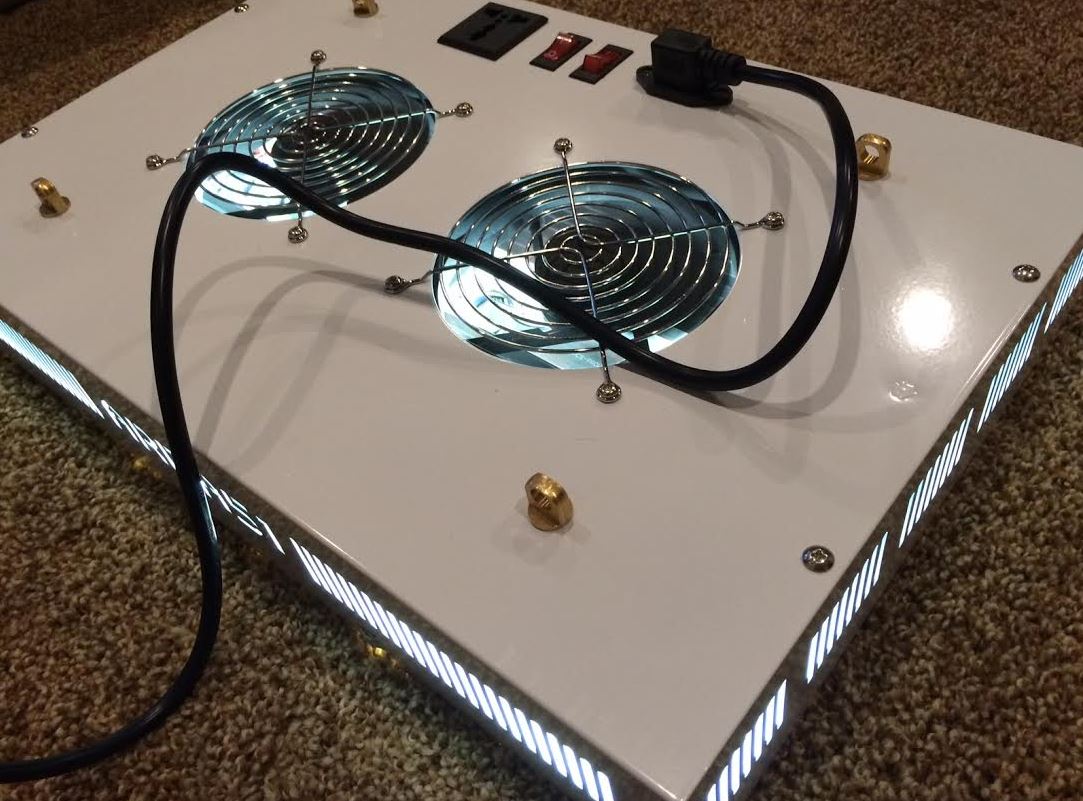 Coverage and Hanging Height
Area 51 recommends keeping the panel approximately 24″ to 30″ above seedlings and clones with the white LEDs only. When you're in the vegging stage, you can lower the panel to about 18″-24″, still while using the white LEDs only. When flowering, it's recommended to keep it at 18″-24″ while both the white and red LEDs are turned on. Coverage varies depending on which setting is turned on. For vegging, you can epect a footprint of about 36″ by 36″. For flowing, optimally you want to aim for 24″ x 30″, but you can use it for up to 36″ by 36″ of area.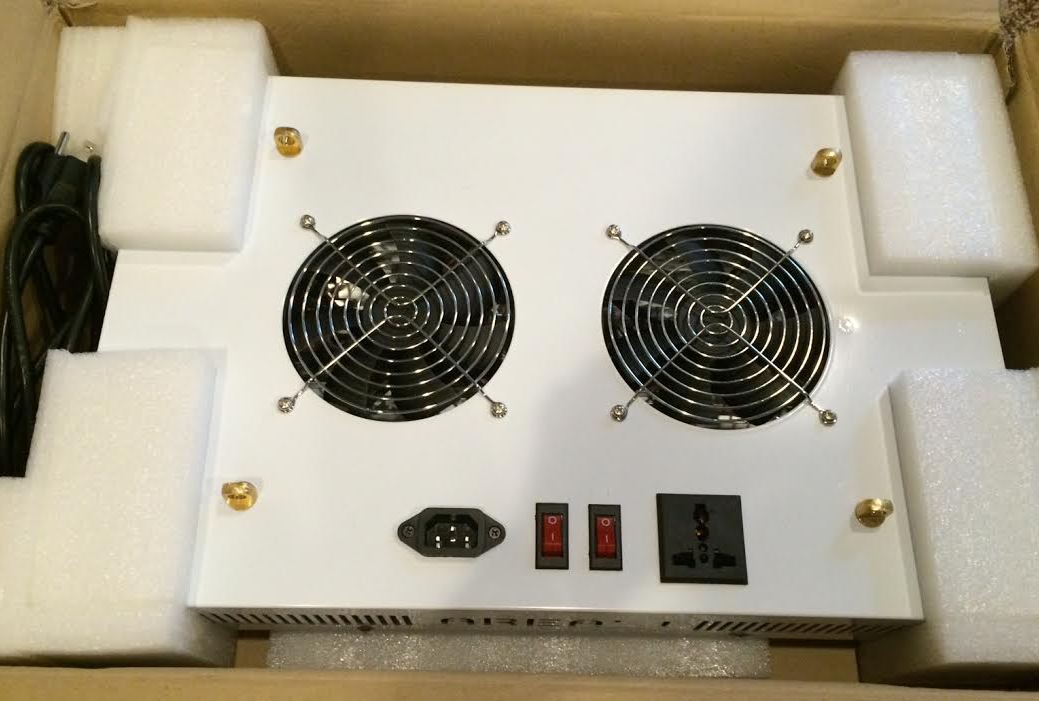 Fast and Safe Shipping
Area 51 delivers their grow lights all around the world and anywhere within the United States. These include Canada, United Kingdom, Ireland, Germany, New Zealand, Australia, Norway, Finland, Sweden, Switzerland, Iceland, Luxembourg, Austria, Denmark, Belgium, and the Netherlands. All orders are shipped from the United States via USPS Parcel Select or Priority Mail. If your lamp is being sent out of the country, it's shipped via USPS Priority which usually delivers quite fast and without hiccups. And let me assure you, they are packaged with care in a sturdy and durable box with custom foam inserts.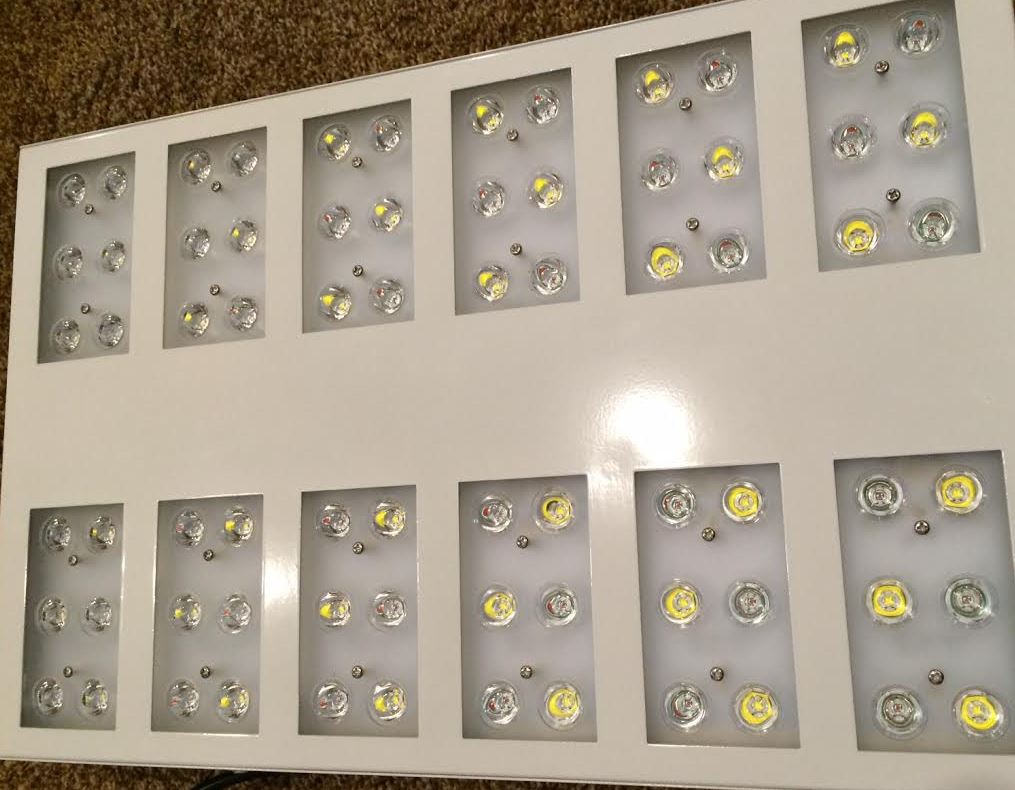 LED Bins
It's very apparent that Area 51 only uses high quality parts. The specific LEDs that the RW-150 uses are listed as Cree XTE Cool White XTEAWT-00-0000-000000H50 R5 + Cree XPE Red XPERED-L1-0000-00801 P3.
Limited Lifetime Warranty
Unlike some companies, Area 51 proudly stands behind their product. With the purchase of an RW-150, you not only get a free adjustable ratchet hanging kit, you also get a limited lifetime warranty that's incredibly generous. During the first two years of ownership, if any part fails due to a manufacturing defect, they'll fix it for free and even pay the shipping costs. For more information on their warranty, be sure to check out the Area 51 warranty page.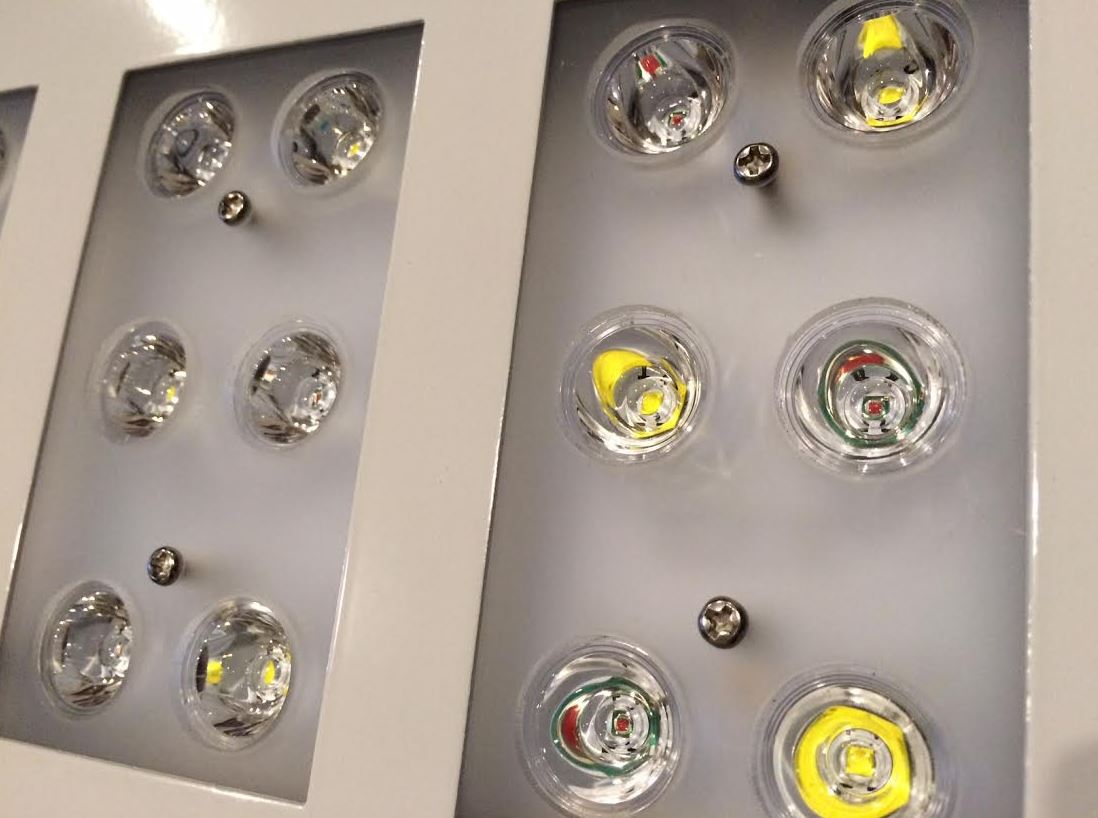 Final Thoughts
If you're hesitant about Area 51, head on over to their website and give it a read. In fact, just do a simple google search for their grow lights and you'll see amazing results that blow the competition out of the water. Although they definetely aren't the most inexpensive led grow light on the market, it's safe to say that the value is absolutely unmatched. Some panels that cost twice as much still fail to outperform the Area 51 RW-150 – bold claims, but entirely true.