Apollo Horticulture GL80X5LED 400W LED Grow Light Review
|
Apollo Horticulture has been manufacturing LED lights for several years now. We'll be honest, they haven't always been well known to make the best led grow lights, but with their recent panels, they sure changed that trend. Introducing the Apollo Horticulture GL80X5LED 400W LED Grow Light, a perfect full spectrum option that will have your plants as healthy and happy as possible.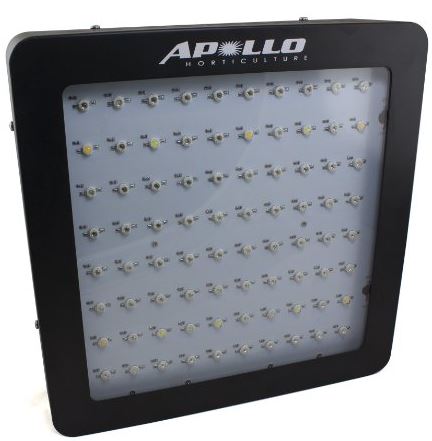 So what's so special about the GL80X5LED? It has set itself apart from the competition by offering a wide array of features that live up to their hype.
Key Features
Uses 80 x 5w chips to produce coverage enough for 3 feet x 3 feet for vegetative growth, and 2.5 feet x 2.5 feet for flowering growth. This produces approximately 10,800 lumens for brightness that promotes fast, healthy growth.
Integrated cooling system combines the use of two large 4.5 inch fans to keep the unit cool to the touch at all times. Overheating isn't of concern since the use of large heatsinks are standard.
Viewing angle combines a mix of 90 to 120 degree light for overlapping coverage to minimize shade or dark zones in the growing tent or enclosure.
Suitable for many applications including greenhouses, h20 systems, grow tents, grow boxes, and more.
Pulls 110V – 1.8A / 220V – 0.88A from the wall outlet which converts to a power consumption of approximately 110V: 198W +- 5% / At 220V: 192W +-5%
High output 5w chips are never driven to their full capacity of 400 watts. However this is a good thing. If they were being driven at their full power, they panel would likely burn out and/or stop working all together.
Comes included with a 6.6 feet power cord and one set of 19 inch stainless steel hanging kits for easy installation, removal, and setup.
Provides the proper light spectrum that plants require for proper veg and flower growth. These are listed as 430~440nm, 450~475nm, 620~630nm, 650~670nm, 730nm & White 6500K.
Also available in a larger 700 watt version or a smaller 150 watt version.
Rated for a lifespan of 50,000 hours.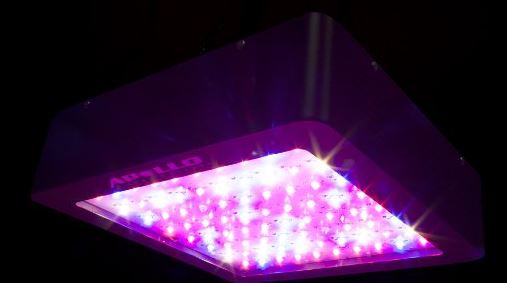 Things We Like
Easy to setup and operate. Just hang at your desired location, plug it in, and you're good to go.
Uses powerful 5w diodes rather than your typical smaller/much less powerful 1w or 3w diodes.
Small size of 13.2″ x 13.2″ x 3.75″ fits portable growing locations that don't have much vertical spacing to work with.
Fairly inexpensive compared to other makes/models.
Utilizes the proper light spectrum by including light from a very wide range, leaving the plants a lot of available light to choose from.
Extremely bright. Right from unboxing, it's obvious that this thing can grow some serious flowers.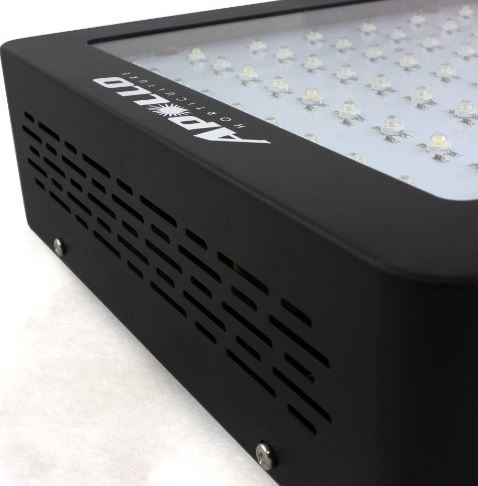 Things We Didn't Like
Some consumers have experienced faulty units that have arrived DOA. However, Apollo Horticulture has excellent customer service and will take care of faulty equipment once you contact them via phone or email.
How Far Above the Plants Should It Be?
There will be a lot of speculation when it comes to the hanging height of this grow light. Many find best results when hung above the plants 18 to 22 inches, whereas others have experience good results by hanging it a high as 36 inches. However, don't hang it too close! Doing so may scorch the leaves and bleach them to a white color. Unfortunately, we weren't able to find any exact recommendations from Apollo Horticulture that states the proper hanging height. It's best to experiment to find out which height pairs well with your scenario.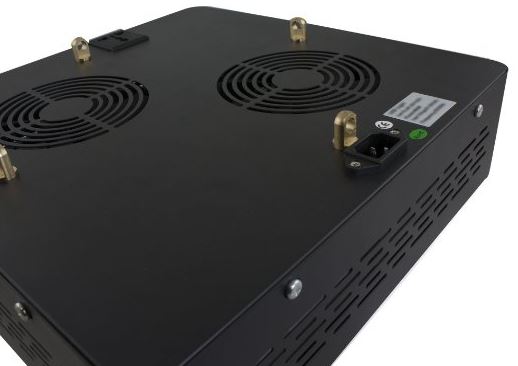 What Size Grow Tent Should I Use?
In the vegetative stage, the GL80X5LED 400W LED Grow Light will cover an area of approximately 3 x 3 feet. Flowering requires more intensive light and therefore is recommended for 2.5 feet x 2.5 feet of optimal coverage. If you're using a larger growing space, it's best to overlap light with additional panels to achieve the best possible results.
Final Thoughts
Overall, we have to say that the Apollo Horticulture GL80X5LED 400W LED Grow Light is designed to impress, and it does that will flying colors. Many horticulturists haven't made the switch from standard high pressure sodium or metal halide to LED lighting – but whenever someone does, they usually don't regret it.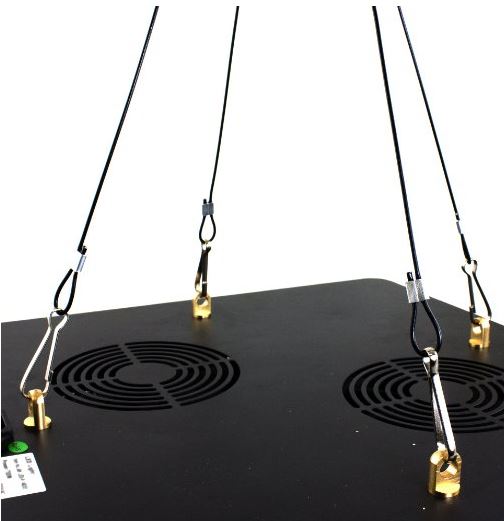 LED panels have come a long way over the past 3-5 years and Apollo Horticulture seems to have done it right with their latest panels. No ballasts, extreme cooling, or bulbs are ever required – these panels are designed to work flawlessly right out of the box, and we're happy to say that they definitely bring results to any professional or hobby grower.