Global Star G02-50x6w Plus Full Spectrum 300w LED Grow Light Review
|
The Global Star G02-50x6w Plus is a Full Spectrum LED Grow Light that's designed with indoor gardeners and horticulturists in mind. It was recently released on the Amazon marketplace as a budget friendly option that many people are deciding to invest in. But is it as great as it's supposed to be? Or is it just another cheap knock-off panel that won't last more than a couple of grows? We had the opportunity to thoroughly test it out for ourselves so we could find out if it's suitable for growing healthy and happy plants and flowers.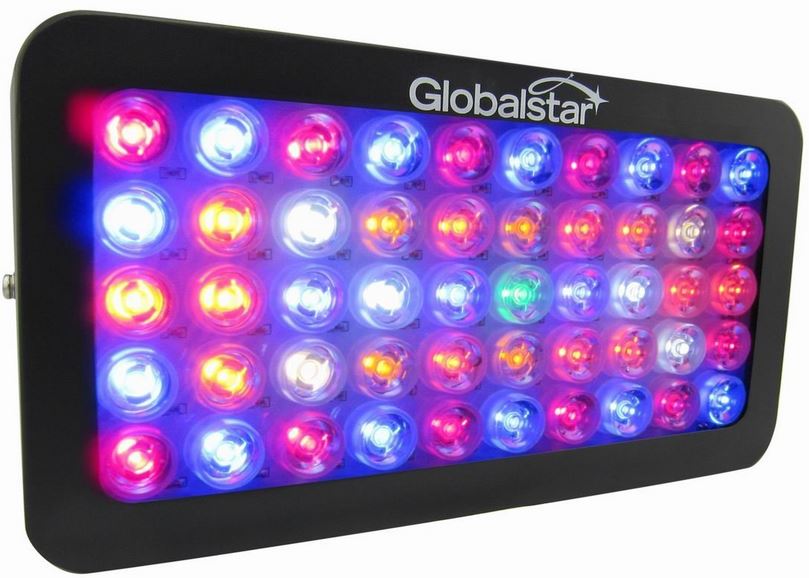 6 Watt Diodes
Truth be told, this is the first panel under $200 that we've seen comprised of 6 watt LEDs. To be specific, the panel is made up of 50 x 6 watt diodes that are designed to produce fantastic fruits, veggies, herbs, and flowers. Often times, the highest wattage you'll see is 5 watts – Global Star went a step further and equipped this panel with 6 watt chips in order to produce a better PAR value and a more powerful and focused wavelength. And not to worry, they're not driven to their full capacity. The current is kept at 490 to 550mA to increase the overall lifespan of the lamp fixture so you can continue to use it for several growing seasons.
Crystal Plus lenses have been added at a specific angle of 120 degrees to help distribute light in an even matter for an even, blended coverage. These lenses are placed over each individual diode in order to add to the even spread of light on the plant canopy below.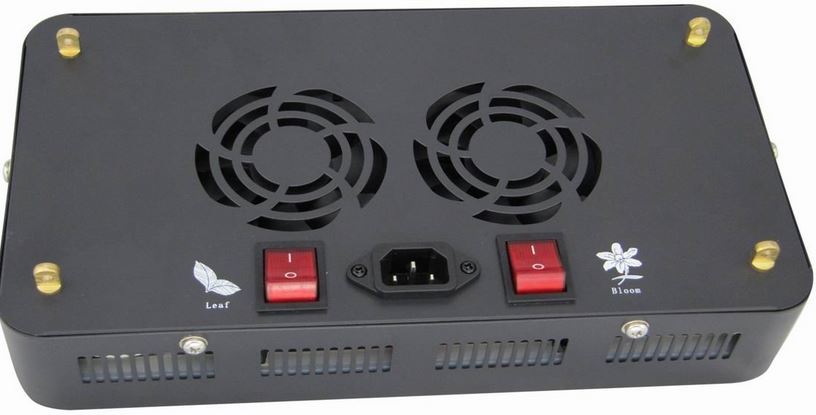 Two Modes
Growers are often pleased to find out that they can swap between two different lighting modes for different effects. The veg mode is in a pattern that utilizes 6 pieces Red (625-630nm), 8pcs Blue (470nm), 4 pieces Blue (450nm), 2 pieces (3500-4000K), 2 pieces (6500-7000K), 2 pieces (13500-14000K), and 1 piece Green (525-530nm). This blend is said to enhance vegetative production to increase foliage, lengthen stems, and build a healthy root system.
Once you want a bit more intensity or once you move into flower mode, you'll notice more diodes lit up to create an intense light pattern. This is comprised of 2 pieces Red (630nm), 12 pieces Red (660nm), 4 pieces Orange (610-615nm), 4 pieces Yellow (585-595nm), and 3 pieces Royal Blue (430nm).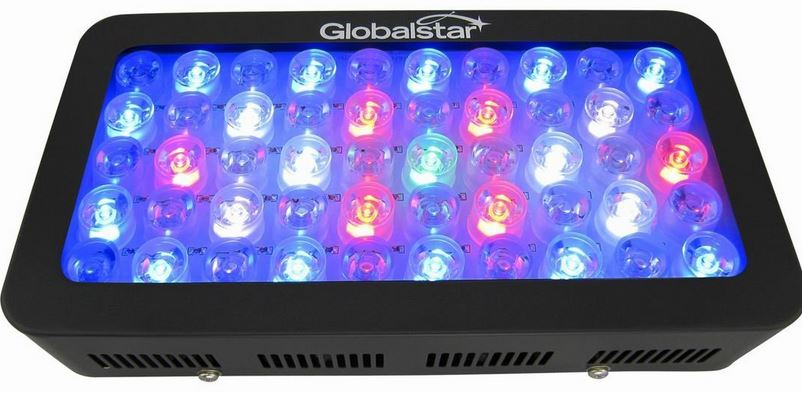 Cooling and Heat Management
With a working temperature rated between 0 and 131 degrees Fahrenheit, it's essential that suitable cooling is in place. Any electronic item that stays on for a continuous amount of time is going to naturally build up heat. Heat can be a very bad thing if it's not properly managed. The Global Star G02-50x6w Plus Full Spectrum 300w LED Grow Light is integrated with an array of aluminum heatsinks internally, with two ultra-quiet cooling fans that blow a consistent breeze to make sure heat is never an issue. Proper heat management is essential if you want your panel to last for more than a single grow, it's nice to see that the cooling system is built and designed in a smart and standard manner. Additionally, the panel uses an intelligent temperature control system power supply that automatically adjusts the current if the temperature becomes too low.
Dimensions and Coverage
When investing in a new grow light, it's absolutely essential to know the coverage so you can adequately design your growing environment to it's full advantage. In veg mode, you can expect a coverage area of roughly 6 to 10 square feet. When flowering, plants require more intense lighting so you can expect between 4 to 6 square feet of coverage. Although this isn't a massive amount of coverage, it's the perfect amount for many small or hobby scale growers who only need to fill out a small area.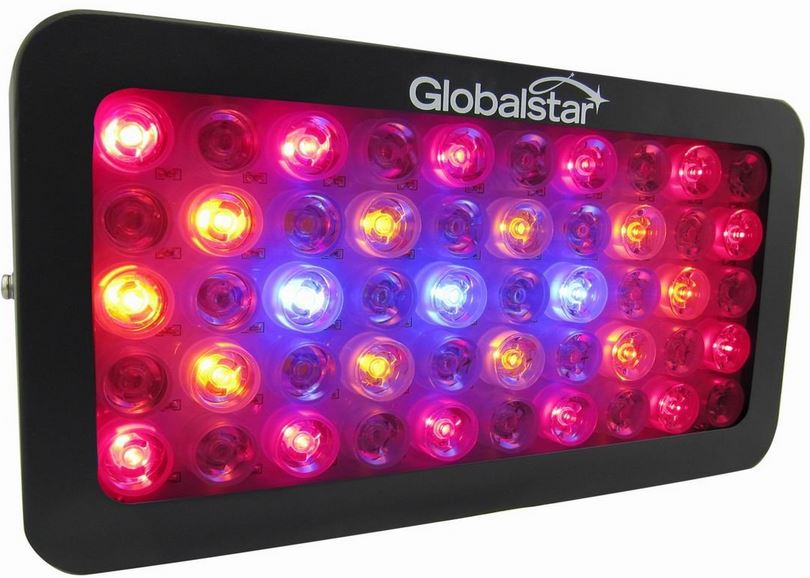 Measuring in at 11.8 inches wide, 6.68 inches deep, 2.6 inches thick, and roughly 5 pounds, it's fairly small and lightweight compared to most grow light setups. Because of it's small size, it's easy to setup and configure to your own specifications when you first unbox it. Additionally, it comes included with a free stainless steel hanging kit that makes setup and adjustment a snap in the future.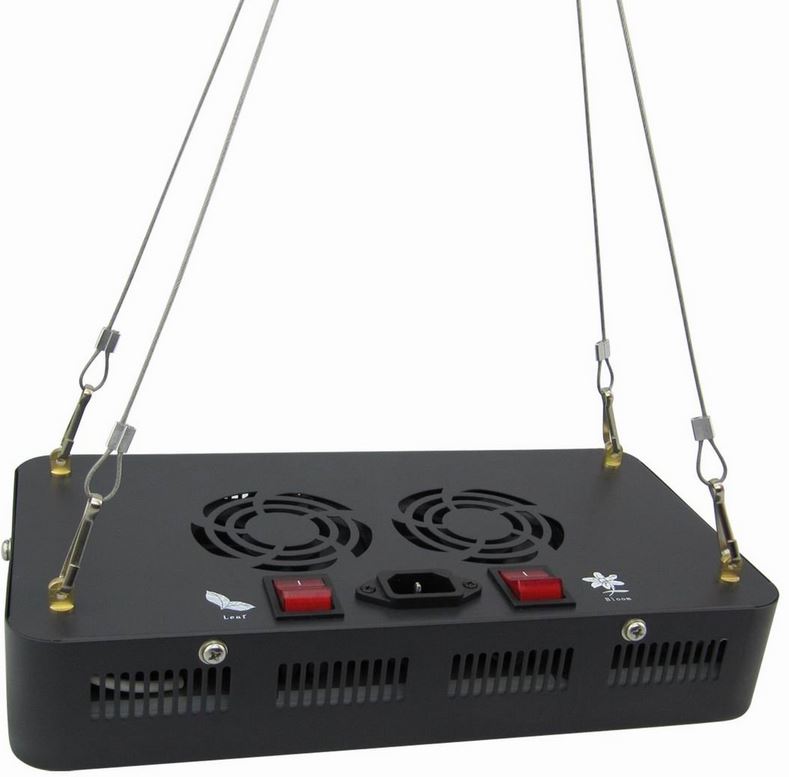 Overall Thoughts
Although it's not the absolute best LED grow light on the market, it's one of the best for under $150 that we've ever seen. With a price tag on Amazon.com around $130, the Global Star G02-50x6w Plus Full Spectrum 300w LED Grow Light provides the best bang for your buck in it's class. Perfect for small-scale or hobby growers, this light fixture is fully capable of creating a fun and rewarding introduction to the complex world of growing indoors with LED technology.