California Light Works Solar Flare 220w (Full Cycle) LED Grow Light Review
|
The California Light Works Solar Flare 220w is one of the latest grow lights that showcases LED technology that's specifically designed for use in greenhouse gardens and indoor grow rooms. It provides the right balance between producing intense light from a high quality LED grow light and affordable price. This 220 watt version is ideal for full cycle grows in small scales. Solar Flare led's produce a spectrum of red, deep blue, deep red, blue, and warm white to help plants develop faster and more effectively than ever before.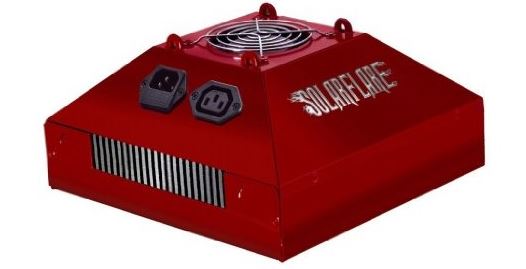 Compared to other grow lights, the SolarFlare 220 provides plenty of power for small scale grows – perfect for newbies or first time growers. It's made of 5w LED emitters, particularly 44 of them, with a nominal power rating totaling to 220 watts.
The good news is that this SolarFlare LED has undergone a few changes for improvement before it was released again in 2014. These major improvements include the following:
More LEDs for each unit
State-of-the-art high efficiency diodes
Glass primary optics in jewel quality
Topnotch ceramic substrates
10% to 15% more light with the same power
More than 90% efficiency
New proprietary design
Minimal increase in total power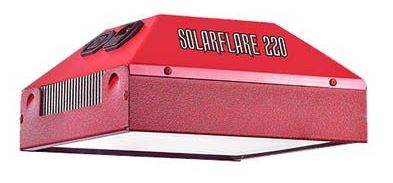 Features
44 5-watt LEDs
9" x 9" x 4"
120V
5' x 5' for Veg coverage
2' x 2' for Bloom coverage
Estimated life span of more than 80,000 hours
Can operate with a temperature of -15 to 40 degrees Celsius
Operate facing down
Highly efficient power supplies built into the system
Designed for Bloom and Veg
Can be used throughout a full grow cycle
Designed for small cycle full grows
90-degree primary lenses
OptiGrow Spectrum
Chainable design accommodating as many as 10 SolarFlare panels connected to one power outlet and timer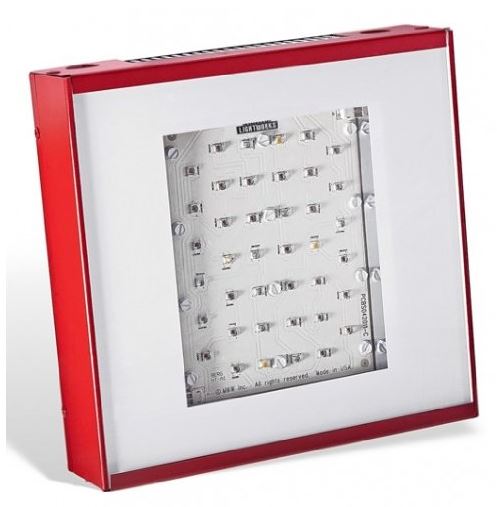 Pros
There are many advantages to the SolarFlare 220W LED panel. For one, it has been modified significantly to further improve its usefulness in growing blooms and vegetables. Hobby growers love it for being reasonably priced, making it a bargain given its price and quality.
Many love its 40% to 50% power savings compared to those using HID based lighting setups. Also, the worldwide power support, and high photosynthetic photon flux to provide unmatched yield results among the plants. These panels also provide a uniform coverage area for both Veg and Bloom, which means that there is no wasted light – all is usable by the plant through photosynthesis.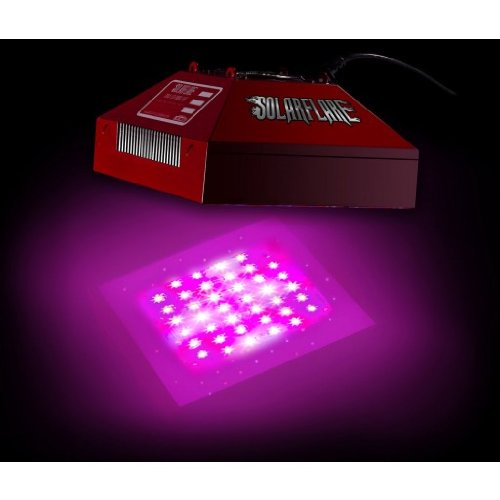 Truthfully, every feature that it has is directed to helping the plants grow indoors. The SolarFlare 220w was designed to accommodate possible expansions in the greenhouse, accommodating up to 10 additional units. Being full-cycle, it is appropriate for use at any stage of growth.
Cons
Even if the SolarFLare 220w can accommodate expansion, each unit only caters to 4 square feet of maximum coverage area. This is alright for small scale growers but not so much for large-scale growers.
Final Recommendations
The California Light Works SolarFlare 220w LED grow light is a great choice for indoor growers who are looking for affordable yet high quality options. It is also ideal for those who are not quite certain about expanding their greenhouse, but want to prepare for it in case it does happen. Overall, it's an excellent, budget-friendly option for those who want to get a sample of what LED growing can produce.