Truth Lighting LED – M16 – 16 Module LED Grow Light Review
|
With over 10 years of research and development, Truth Lighting LED has released their most powerful, top of the line LED grow light, the M16. From first glance, it may look a bit similar to other grow lights that have been out for quite some time. But after taking a close examination at the technology and specifications that are behind it, the Truth Lighting M16 is truly a powerful light to be reckoned with.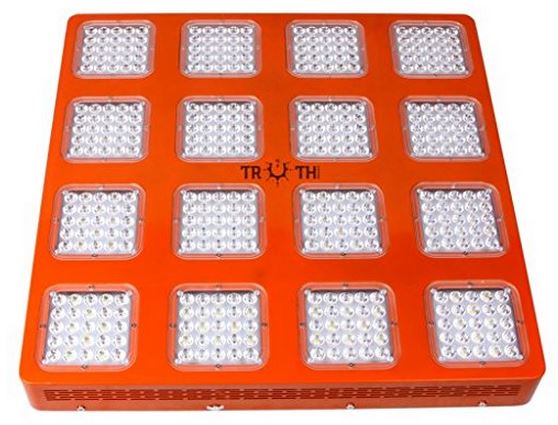 Each M16 panel features a unique 25 diode module layout that adequately spaces out the pattern of light in a 4 x 4 array. 16 separate modules provide all of the necessary wavelengths to ensure the best lighting is always available for your garden. Whether you're vegging or flowering, the M16 has been said to undoubtedly outperform any 1000 watt HID setup. Let's take a closer look at what this panel has to offer.
Modular Design
One of the most fantastic things about any of the Truth Lighting LED panels is that they're completely modular. This offers the ability to customize your layout and/or easily replace modules that fail over the course of time. Although failure is an incredibly rare occurrence, it gives you the unique ability to swap out a module at any time. Each one is arranged of a layout of 25 separate diodes in a 5 x 5 pattern.
Hanging Height
One thing that makes the M16 stand out is it's hanging height. Traditionally, most LED panels require the grower to keep the fixture around two to three feet above the garden's canopy. With the M16, you'll want to keep it as close as three to six inches from the canopy. This saves your need for vertical space and allows you to grow larger plants with less vertical space required. Keeping it at this distance is said to optimize the absorption of PAR and aid in a successful harvest with healthier plants.
Growing Coverage (Footprint) and Spectrum
Right out of the box, the M16 is ready to go. Just plug it in, hang it up, and turn it on. The footprint that it offers is around 5 feet by 5 feet for both flowering and vegging. The spectrum that it comes with is suitable for both phases of plant growth, but if you'd like to customize the spectrum to make your panel veg or flower dominate, you can. Just contact Truth LED Lighting and you can purchase additional modules that are specific towards either veg or flower.
Size
As with any LED light, it's crucial to know the size and weight so that you can make the proper adjustments to your growing area if need be. The M16 is quite heavy but definitely not over-sized. It's a manageable size that weighs in at 42.2 lbs and measures 23.6 x 23.6 x 2.6 inches.
Cooling
Inside the fixture is an arrangement of ball bearing fans that work quietly to constantly provide fresh air over all of the heatsinks within. These heatsinks dissipate heat coming from the diodes and the fans are always running to keep things operating at a proficient temperature. The great thing about growing with LEDs is that they operate much cooler. This means that you likely won't have to spend extra money on a super-duty exhaust system to keep hot air out of your garden. However, this is totally dependent on your garden's exact scenario – some growers may try to cram a bunch of LEDs in a small space, even though they run cooler on their own, they can become problematic if you use too many panels in a small area. The good thing is that the M16 is so powerful on it's own that you should never need more than one panel for any 5 feet x 5 feet area.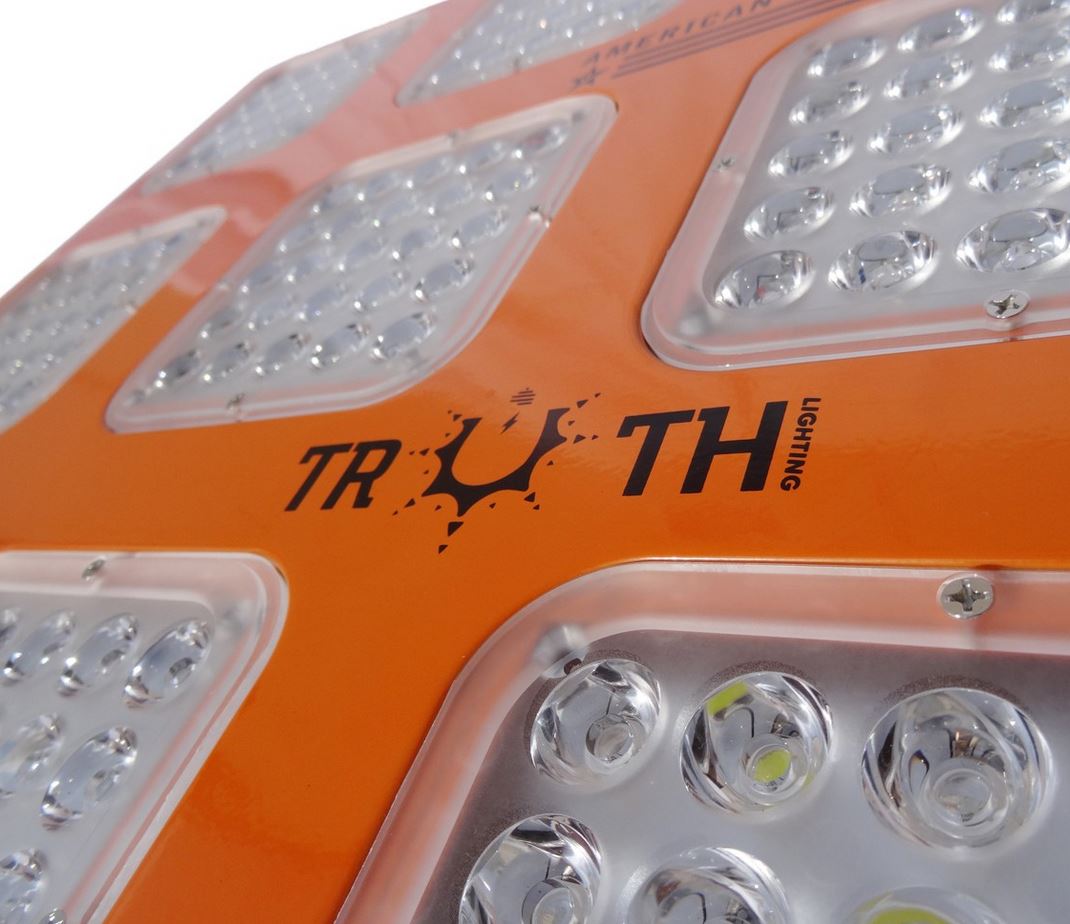 Specifications
Power: 1200W
Actual Wattage: 760W
LED type: Bridgelux/Epistar
LED Quantity: 400x3w
Input Voltage: AC85~264V
LED Beam Angle: 90 degrees
Operating frequency: 50Hz/69Hz
Input Current: 580-630mA
Working Temperature: -4°F to 140°F (–20°c to 60°c)
Size: 23.6 x 23.6 x 2.6in (600x600x70mm)
Life Span: 50,000 hours
Net Weight: 33.06 lbs or 15kg/pc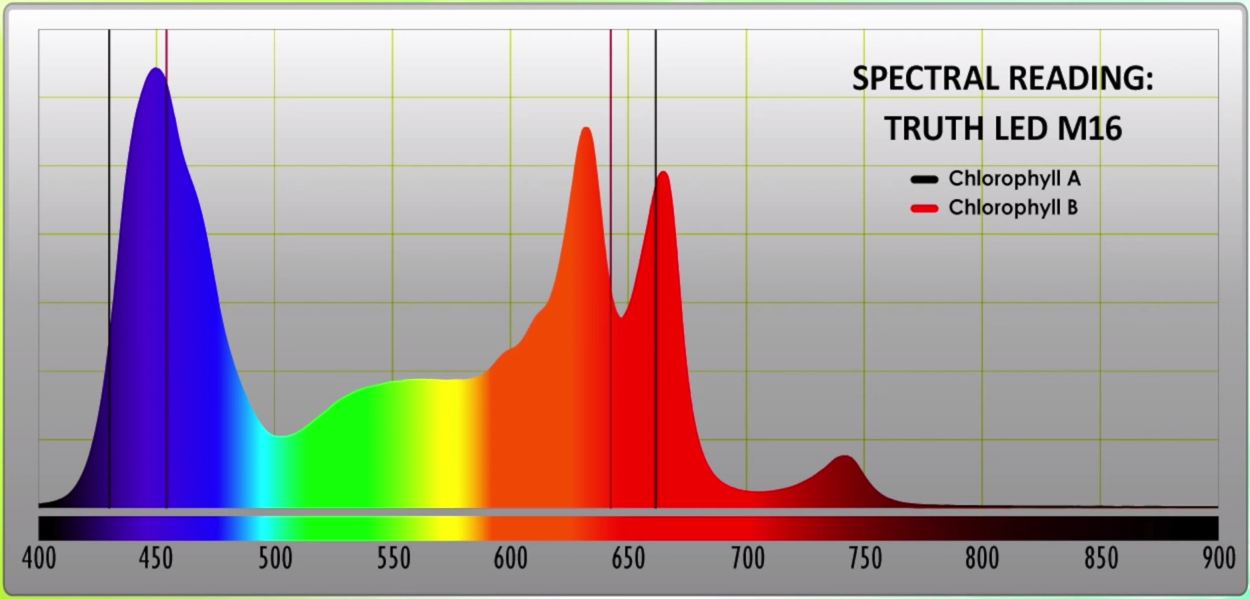 Warranty
The warranty that's included with the purchase of the Truth Lighting M16 is pretty impressive. From the time of purchase, your investment is covered for 3 years (36 months). This way, in the rare event of any failure or mishaps, you can contact the company and they'll have you covered. It's nice to see a company stand behind their products like this since it gives peace of mind to growers who are in the market for an expensive panel like this.
Price
Although it's not the most inexpensive LED panel we've seen, it's also not the most expensive. The price tag on the M16 is right at $1300. For a 1000 watt HID replacement, this is a fairly common price range.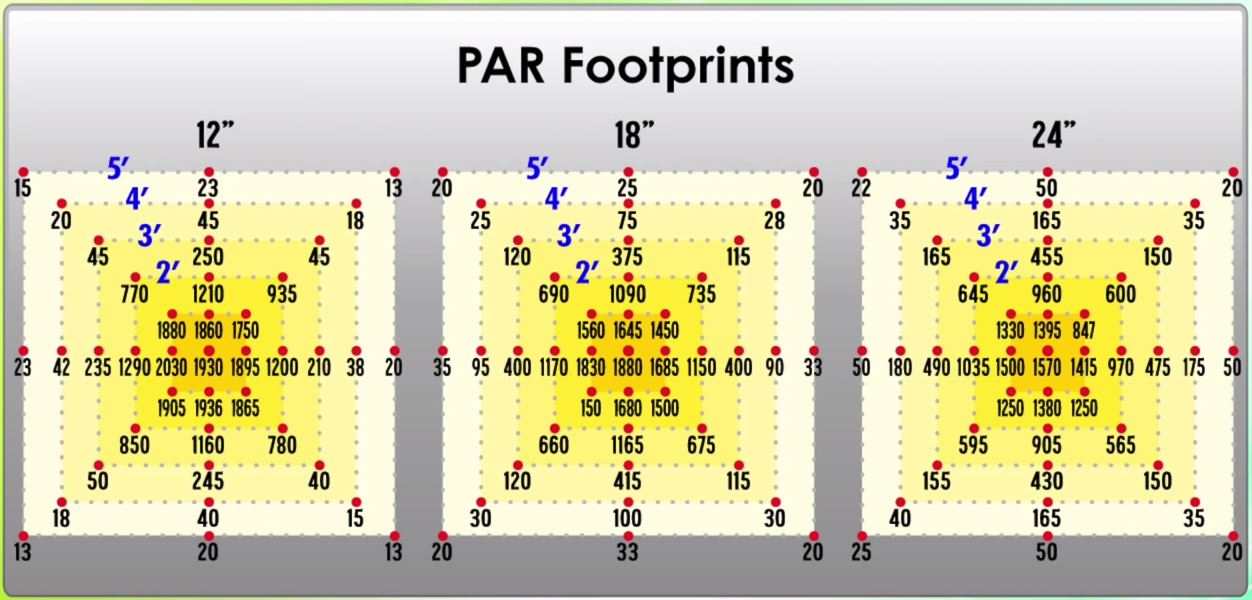 Overall Thoughts
We really like the Truth Lighting M16 LED Grow Light. It's a big fixture that can easily replace a hot and inefficient 1000 watt HID setup, and draw only 760 watts from the wall. This way, you're using less energy to produce the same, or better results with yields that will have you smiling from ear to ear.