SOL 9 – 450 Watt LED Grow Light Review
|
Designed with the latest technology, the Sol 9 450 Watt LED Grow Light can provide your plants with all of the essential light they require for fantastic growth through both vegetative and flowering stages. The balanced spectrum of light will be distributed to a wider area on your plants.
Along with the perfectly blended light spectrum, the light produced by this LED panel is concentrated in an even manner to ensure that the plants take in as much light as is necessary to optimize photosynthesis. Gardeners are also given the option to increase usage by linking several different SOL lights together with a combined power of up to 1200w for covering a larger growing area.
Features
Comprised of nine 50-watt bulbs.
Specially designed reflective surface plus a blended spectrum will produce high yields. This feature will provide your plants with the optimal lighting they need in order to grow as healthy as possible.
Compared to HPS and MH bulbs, LED lights save you up to 55% on energy consumption.
The SOL 9 can be linked to other SOL LED lights, until they reach a combined power of up to 1200 watts.
No additional accessories are needed; no coolers, ballasts or reflectors. Just the diodes. This will help you reduce maintenance costs, as there won't be as much to clean or repair, as with similar products.
The SOL 9 can be upgraded to the higher powered Sol 9 – 900 Watt model.
The need to find a compatible outlet will not be a problem, as it comes with both 110V and 220V sockets.
Specially designed ultra-thin finned heat sinks will keep the temperature low.
Designed to make it easy to install, even for a new grower who doesn't have a lot of experience.
The fusion reflector technology makes 100% use of the light produced by the LED to help the plant receive more effective light.
Compatible with different growing systems such as hydroponic, aeroponic, and traditional soil.
All materials used to create the SOL 9 – 450 Watt LED Grow Light are of high quality and top of the line.
A generous warranty is provided along with excellent customer service.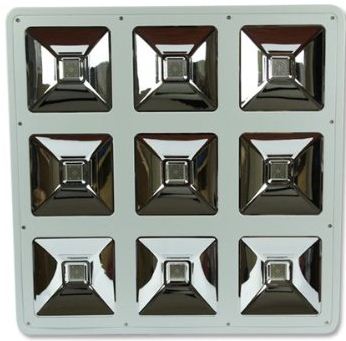 Pros
Since it is 100% mercury free, this light source is recyclable. Gardeners intent on being as eco-friendly as possible should take note of this.
Using the SOL 9 for your indoor gardening needs will save you as much as 55% on electrical consumption when compared to similar lights.
Because you can connect it to other Sol Grow Lights, you can increase the area that the lights affect. This may be useful for gardeners who are also tinkerers and like to build their own grow boxes and/or tents. This is also a great feature for business-oriented gardeners, as it is a cost-efficient way of covering as much indoor area as possible, without having to purchase several products. Furthermore, a specialized room is an excellent way of increasing the quantity of fruit and vegetables you produce.
The diodes in the SOL 9 have a life span of 50,000 hours, which is more than enough to last you for over 50 years of continuous usage. Taking this into account, if you were to consider your long term expenses, using an LED grow light will cost you less.
Produces less heat than its competitors. Other lighting options have been known to burn the plant because excessive heat was released by the bulb. This will not happen with an LED grow light.
Studies have shown a larger quantity of fruits and vegetables were harvested using a grow box than through conventional gardening.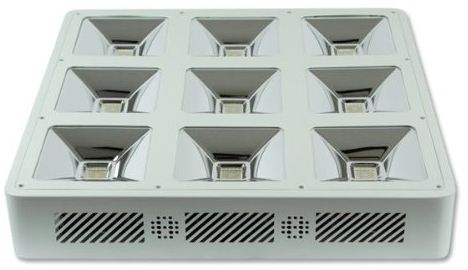 Cons
Because it is technologically advanced among other lighting options, the price for this grow light is relatively high.
A single diode, once it has stopped working, cannot be replaced. The whole panel should be replaced, if this were to happen to you.
Conclusion
Growing plants indoors is something that people do for different reasons. It could be because they feel that commercially-sold fruit, flowers, and vegetables are not as fresh or as nutritious as homegrown produce. It could also be because for financial reasons: maybe the gardener plans to sell his harvest or start an organic farming business. Some even grow indoors for therapeutic reasons, or simply because it's a nice hobby with an added bonus of healthy ingredients for cooking.
Whatever the reason is behind indoor gardening, the gardener has to have the proper tools for it. Using a high quality panel such as the SOL 9 – 450 Watt LED Grow Light may be key to growing a healthy plant. Deciding on which light you are going to use depends on how important it is for you to grow the plants properly. Remember, photosynthesis is how plants gain nutrients, so if you were to provide them with below standard lighting, there is a high chance that the produce will not be as high-quality as you might have hoped.