NextLight 525 Watt LED Grow Light Review
|
Growers have been successfully growing indoors for decades with HID lighting, and with great results. But HID lighting has it's major drawbacks – high heat output, high energy usage, a less extensive spectrum, and never ending bulb changes. It's reasons like these that make growers think about switching to LEDs.
Although LEDs are usually significantly more expensive, they tend to last longer, run cooler, and they run virtually maintenance-free. Most serious growers look at purchasing an LED Grow Light as an investment that should perform well, while easily outlasting and outperforming any high pressure sodium or metal halide lamp.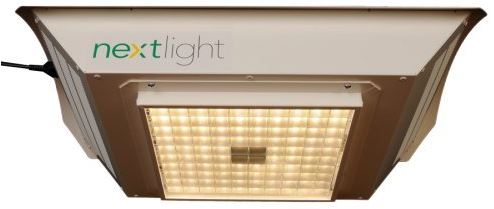 If you're a serious grower that's considering a top rated and high-end investment, you may have come across the NextLight 525 Watt LED Grow Light. We've heard so many great things about it that we had to get our hands on it for ourselves and see what it had to offer. Pulling just 525 watts, it's specifically designed to replace a traditional 1000 watt HPS, and from how it's built and how we've seen it perform, it'll do just that.
Unboxing and Setup
Upon it's arrival, you'll notice that the NextLight 525 Watt LED Grow Light is shipped in a super-sturdy foam interior that wraps all of the way around the light. You'll initially want to check if everything arrived safe so have a quick look at the diodes to see if they look alright. Note that there are four blank spots in the center where there won't be any diodes. This is done for what NextLight says is "bracketing and heat distribution" reasons. Also in the box will be a 240v power cord and a 120v power cord.
Right out of the box it's ready to go. All you'll need to do is plug it in, and it turns on. One thing that we noticed is that there's no power button. In fact, to turn it on you just need to plug it directly into an outlet. Although some may like the simplicity of this, we like having a power button for easy access if you want to switch a light on or off. You'd think that a simple switch wouldn't be too hard to integrate?
Spectrum
The spectrum is a very important factor to consider when searching for your next grow light. Since NextLight wanted to design a true 1000 watt replacement, they took a close look at a high pressure sodium spectrum and matched it while perfecting it's flaws. Above you can see the Spectrum graph with the 525w labled as the green line, and the colors as a 1000w HPS. With a typical HPS light, you'll notice that it's weak in lower range around the 400nm range, but very strong in the white and red light.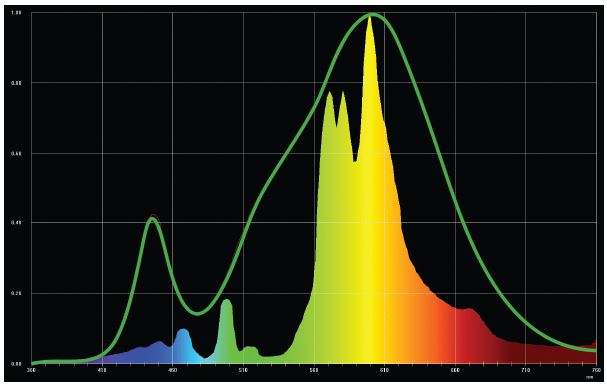 The spectrum used in the NextLight 525w LED provides all of the sun-like qualities that plants have proven to love through photosynthesis. It contains all white Cree Brand LEDs with a proper and wide spectrum in order to assist with every stage of growth – from seed to harvest.
PAR Output
Since it features the same spectrum of a 1000w HPS, it should definitely match the PAR as well – we're glad NextLight thought that way because the PAR charts that they've compiled are pretty impressive. Checkout the PAR charts above to see what the real readings show.

Growing Coverage
Upon plugging it in you'll notice that it's insanely bright! Remember, this light is specifically designed to replace a 1000 watt HPS, so this should come as no surprise. As far as coverage goes, it's a pretty important factor. The NextLight 525w LED is designed to effectively cover 36″ x 36″ (3ft. x 3ft.) for blooming, and up to 60″ x 60″ (5ft. x 5ft.) for vegging. This is a pretty good amoutn of coverage. One thing they've done differently than most other LED grow light manufacturers is the reflectors. Rather than being round, they're square, in order to fill out a typical square grow tent with a more even pattern.
Lasting Quality
With a lifetime rating of 70,000 hours in a 100 degree Fahrenheit environment, the NextLight 525w is designed to last for up to 14 years of continuous flowering cycles. That's some damn good value if you ask us.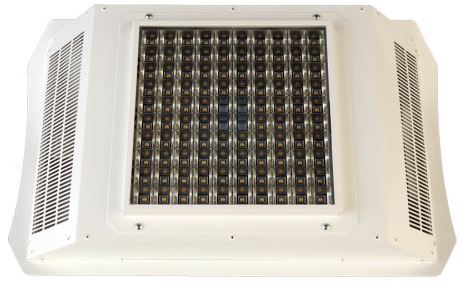 One thing that we always love is a company that stands behind their light with confidence. It's no secret that NextLight has a good reputation with their customers. With each light they include a 5 year warranty period that covers any malfunctions or flaws that are their fault. They seem to have wonderful customer service and they're always easy to reach via phone or email. Best of all, NextLight is a company that designs and manufacturers their lights in the USA.
Also, if you ever happen to have a need to send your light in for a warranty related issue, they'll issue you a loaner light to use in the meantime so that you're never without a light.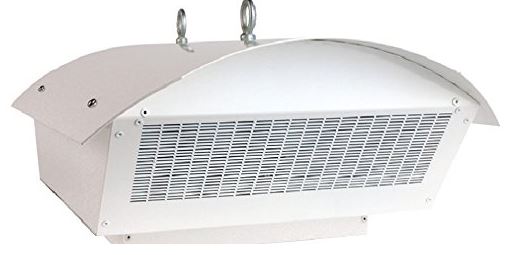 Size and Form
Weighing in at 30 lbs. and measuring 22 x 13.5 x 6.5 inches, the NextLight 525w is a bit heavier than your typical grow light. Since just about every and any grow tent can support 30 lbs. of weight, this really shouldn't pose any problems for most growers.
From first glance you'll notice that it's square in size with two ventilation areas on both sides of the fixture. Operating with 75% less heat than your traditional 1000 watt HPS, it operates very cool to keep everything working as efficiently as possible.
Located on the top are two large eyelets that are suitable for hanging and suspending the light into your growing environment in a stable manner. They're over-sized which is kind of nice considering most LED grow lights have tiny little eyelets that can be hard to clasp a clip through at times.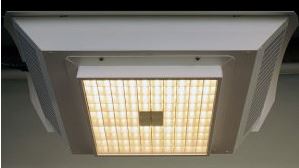 UL Certification
NextLight went above and beyond and went through the lengthy and expensive process of acquiring UL Certification for the 525w LED Grow Light. Many grow lights don't have this certification, so it's nice to see that NextLight really wanted to win your trust with an approval that assures the best safety standards possible. It's even been approved for damp locations – perfect for humid environments that see a lot of moisture.

Overall Thoughts
For those who are serious about growing and want a professional LED that's designed to perform incredibly, look no further than the NextLight 525w LED Grow Light. It's one of the only few true 1000 HPS replacements that are available, although it comes in at a price tag of around $1295. When you consider the amount of energy you save and the money you save on replacement bulbs, it should easily pay for itself within 2 years or less.
Since it's American made with Cree Brand white-colored, full-spectrum diodes, it's a definite favorite of ours. Best of all, the 5 year warranty is so incredibly generous that it gives you the assurance you need to make an investment of this price.