Lighthouse Hydro ION 8 FSF LED Grow Light Review
Lighthouse Hydro is a true innovator of all things related to indoor growing. They're a popular manufacturer of all sorts of items like grow tents, duct silencers, inline fans, and even a few top of the line LED grow lights. One of their latest releases is the Lighthouse Hydro ION 8 FSF, fully designed from scratch with a unique UVB apparatus that works well at creating a true, realistic spectrum. Available in a smaller 426 watt size as well as a larger 1546 watt size, there's an ION 8 FSF panel for all scales of grow rooms – suitable for hobby growers and industrial growers alike.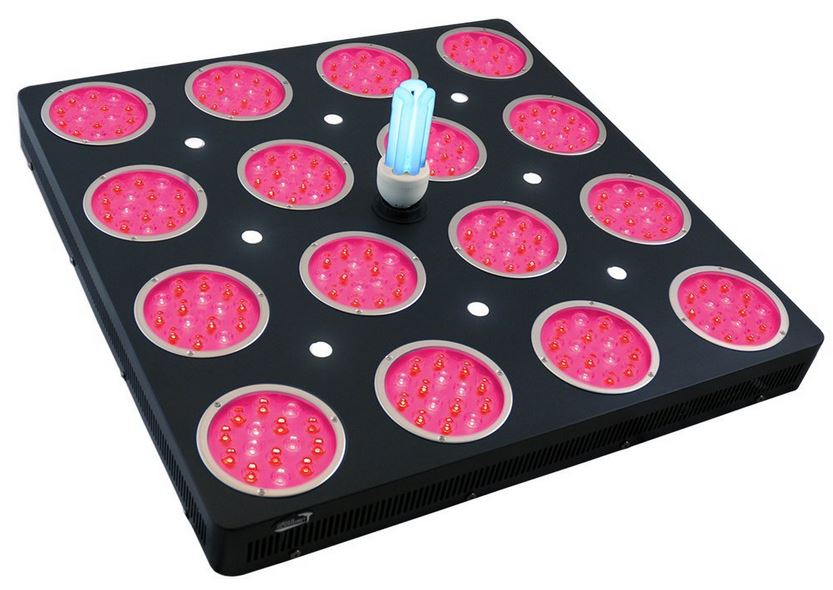 Coverage and Size
The two available Lighthouse Hydro ION 8 FSF grow lights both incorporate the same new features, but are meant for different scale operations. We like to think of the 1546 watt panel as the "big daddy" that'll get the job done no matter what, with flying colors. Measuring in at 25.5″ x 25.5″, there's no debating – it's a large and bulky panel with a massive amount of coverage. With one lamp, you can achieve vegetative coverage of around 6′ x 6′, or 4′ x 4′ of flowering/blooming coverage.
The smaller of the two panels, the 426 watt version, is much smaller and more suitable for those who want phenomenal results, but don't want to spend a lot or simply don't have the growing area needed for such a large lamp. Measuring in at 12.5″ x 12.5″, this fixture has a coverage for vegging 3′ x 3′ and blooming coverage for 2′ x 2′. It's a great choice for those who don't have the same requirements or expectations of a large scale grow.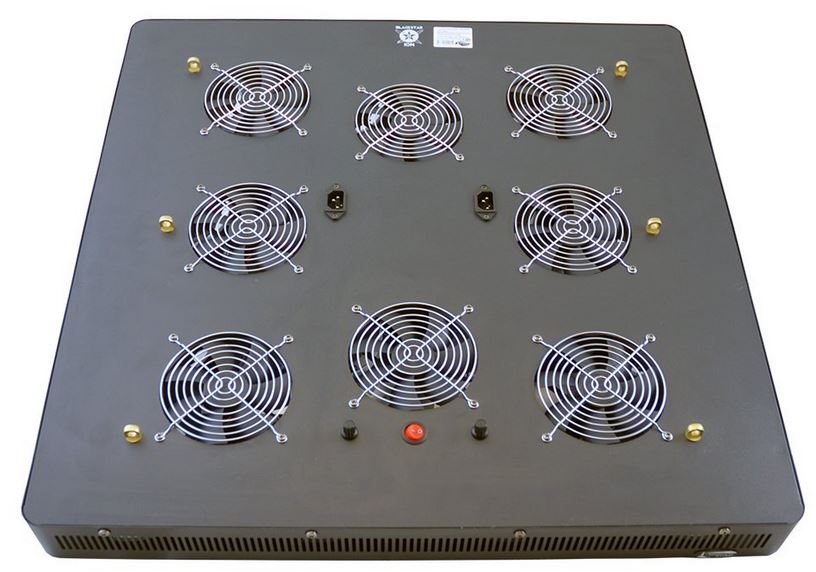 UVB Boosting Bulb
From first glance, you'll notice something much different about the Lighthouse Hydro ION 8 FSF LED Grow Lights. There's a bulb protruding out of the middle that glows to emit ultraviolet light. UVB has been said to give the flowers an added boost of potency and resin towards the final weeks of flowering. It's known as the "Custom 4 Phosphor UVB Horticultural Resin boosting Bulb" and you simply won't see the same setup on any other grow light on the market. It may look a bit goofy, but since it won't always be needed through certain stages of growth, it can easily be removed if desired. However, we do recommend it to be used as directed for the later stages of blooming.
Spectrum
Each of the ION 8 FSF LED Grow Lights have a spectrum that can be fully adjusted to a particular spectrum and intensity. There are six separate bands of light that make up the spectrum. Specifically, the red ranges from 630 to 660 nanometres, the infrared is at 730 nanometres, the ultraviolet is at 380 nanometres, and the white is set to 12000k. This is a true blend of all of the important spectrum that's needed for proper vegging and flowering.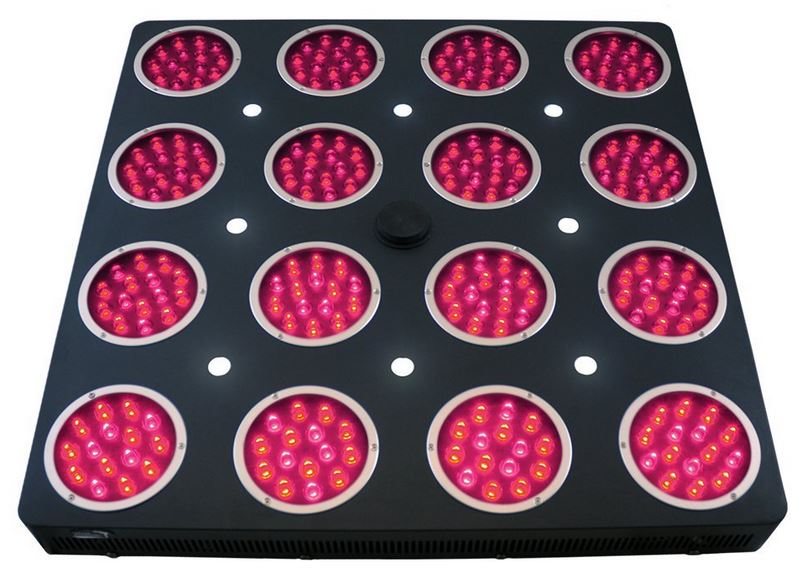 Worldwide Wattage
Many growers are pleased to find out that the Hydro ION 8 FSF is compatible with a worldwide voltage ranging from 90v to 240v. The power cord is completely modular so it can be changed and/or switched out for a cord that works best in your country. The power cord that's available works in the United States, United Kingdom, European Union, and Australia. If you take a glance at the top of the fixture, you'll notice two inputs for a power cord. This is a daisy chain feature that allows you to plug one of the cords into the wall outlet, and the other into another lamp. This way, you'll have a whole chain of lamps with a single power cable, rather than 3, 4, or 5 or more power cords (one for each lamp you have setup). This keeps things nice and tidy because let's be honest – having a neat and organized growing environment can be necessary.
LED Chipset
Utilizing a blend of both 6 watt and 10 watt diodes, Lighthouse Hydro achieved a unique LED chipset when they came up with the design of the ION 8 FSF. The smaller, 426 watt lamp has 48 x 6 watt chips and 4 x 10 watt chips. The larger, 1546 watt lamp has 240 x 6 watt chips and 8 x 10 watt chips. Additionally, both have a lifetime rating of 40,000 hours, meaning that you can expect fantastic performance with consistent use for several years to come.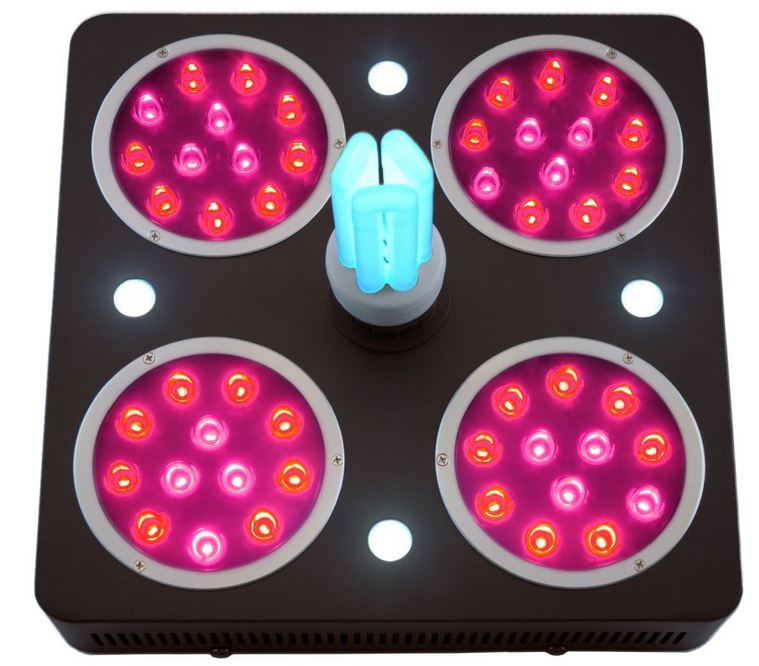 Limited Warranty
The truth of the matter is, these LED grow lights are a bit expensive. They'll require a bit of an upfront investment since the 426 watt version sells for around $650 to $750 and then larger 1546 watt version sells for just over $2,000. To give consumers a bit of peace of mind about their purchase, Lighthouse Hydro decided to include a three year limited warranty with each lamp. This way, you'll have it covered if anything doesn't perform as expected or fails to deliver to your standards because of a malfunction. Although this rarely happens, it's nice to have some assurance and coverage just in case the fixture doesn't live up to it's name.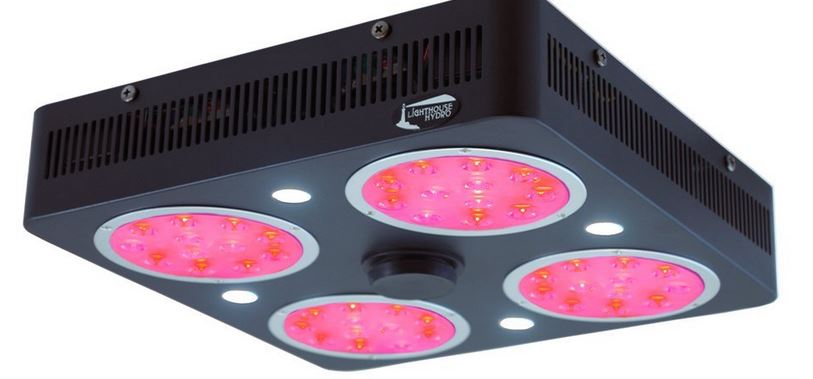 Overall Thoughts
Lighthouse Hydro did a great job by creating an LED grow light with all of the bells and whistles you need for both professional/industry grade growing or a small hobby grow in your basement. There's a fine blend of new advancements including the UVB+ Resin Boosting Bulb, a customizable spectrum, worldwide wattage, and a completely modular LED cluster design. On top of that, each fixture is packaged with a 3 year limited warranty to keep your mind at ease. Overall, we're quite impressed and wouldn't hesitate to recommend the Lighthouse Hydro ION 8 FSF to anyone looking for a high end LED grow light that'll perform with fantastic results each and every time.