Kind LED K3 L300 Grow Light Review
|
If you're in need of a seriously powerful LED grow light, be sure to check out the Kind LED K3 L300 Grow Light. It promises powerful results with enough power and light output for medium to large sized grows. Let's take a closer look at what it's all about…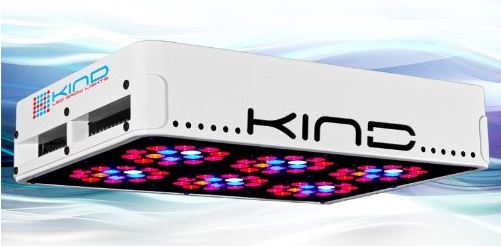 Features
Utilizes a 700 mA Driving Current to provide up to twice as much light coverage as your traditional lighting setup. This promotes proper growth and increases yields without question.
The K3 L300 boasts a proprietary blend of 12 different bands to provide the most ideal spectrum for the plants to grow the way they were meant to.
Ultra quiet fans with a cooling system that keeps it running at optimal conditions at all times. The drivers have been precisely tuned to deliver the quality that Kind promises.
Equipped with massive reflectors that provide more growing coverage than any other LED grow light per watt, currently on the market.
The 3 watt diodes are never driven to their full capacity to promise longevity and quality.
Very intensive light is ultra-bright and provides the proper PAR for the best growth and development of plants through photosynthesis.
Uses about half of the electricity as a 600 watt metal halide setup and you'll never have to change bulbs or worry about over-heating issues that can sometimes be catastrophic.
Comes included with ratchet hangers that make it easy to install in your grow tent or green house.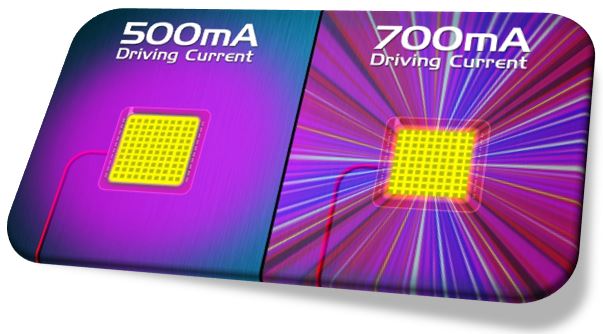 Coverage
With the K3 L300 Grow Light, you can expect the same kind of results that you'd have with a 600w setup. Although every LED grow seems to produce higher quality flowers than any MH or HPS setup out there. Most commonly, horticulturists are using this panel in areas from 3 x 3 feet to 5 x 5 feet depending on which mode of growth your plants are currently in.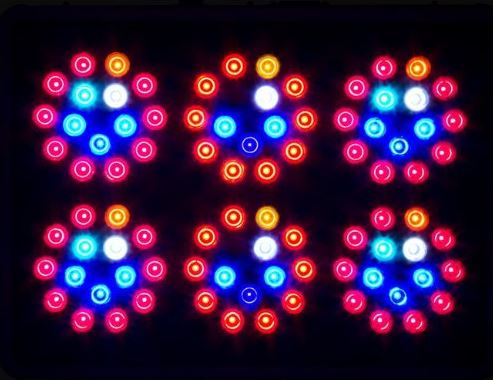 Quiet Operation
Inside of the unit, there are large heatsinks and ultra quiet fans that are designed to keep it within the proper operating temperature while it's turned on. Naturally, LED panels tend to run much cooler than your standard metal halide, high pressure sodium, and even fluorescent lighting options. This means you may be able to finally put away that expensive air conditioner or turn off a few fans since room temperature has been shown to decrease on average among gardeners who invest in LED panels.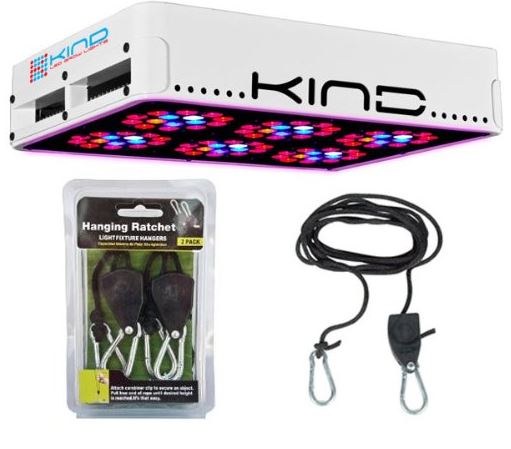 Investing in the Long Run
Although the upfront cost of the Kind LED k3 L300 Grow Light may seem very expensive at nearly $700, most consumers decide that it will save them time and money in the long run by choosing a high quality LED panel to put their money towards. Even for the hobbyist, the L300 may be a good option if you want promising results and fully understand that with quality there comes a price.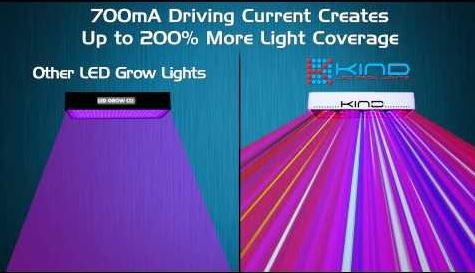 Video Review
In the video below, you'll find a detailed analysis where they compare the Kind LED to high pressure sodium and other high-end panels on the market. They compare the lumens, PAR, and total spectrum. They use a light meter to measure the lumens, a PAR meter to measure the photosynthetic active radiation, and a spectrometer to measure the color of the light.
Final Thoughts
There may be better options out there if you don't want to spend a lot of money, but if you're a fan of the latest and greatest, the Kind LED K3 L300 Grow Light may be the perfect option for you. It's shown that it can produce results comparable to 600w metal halide light setups, but run much less expensive with utility bills and bulb changes.