Kind K5 XL750 LED Grow Light Review
|
Indoor growing with LED fixtures can be an upsetting experience if you don't invest in the proper, high quality LED grow lights that are fully capable of delivering top-notch performance. An excellent example of an LED fixture that works incredibly well and exceeds expectations is the Kind K5 XL750 LED Grow Light. It ingeniously solves the common problem of lack of footprint by providing an intense light pattern with comparable results of a 1000 watt HID setup. We finally had the chance to test it out for ourselves and needless to say, we were quite impressed!

Customize Your Spectrum
One of the coolest and most innovative features that we've seen is the Kind K5 XL750's ability to offer the grower the chance to fully customize the spectrum of light that the panel emits. This way, just about any kind of plant genus can be catered to no matter what stage of growth it's in – seedling, clone, flowering, or vegging. By offering a customizable spectrum, Kind has truly set them apart from most LED manufacturers, it's rare to see this feature built into the design.
Built-in Timer
A common requirement for most growers is a timer that will automatically turn on and off the lights according to a set schedule. The schedule can determine the stage that the plant is developing by mimicking mother nature's seasons based upon the amount of hours the light is operating. With the Kind K5 XL750, all of this is built into the design itself. There's no need for an external timer since one is integrated and fully customizable.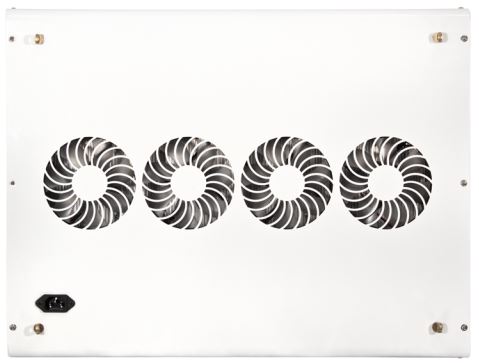 Sunrise and Sunset
In the real world, the sunrise gently intensifies as time goes on throughout the middle of the day. During sunset, the intensity dims and eventually goes dark. This exact function has been built into the XL750 to fully mimic mother nature. In fact, there are a total of eight different stages that the panel goes through as it turns on and turns off, giving your garden a gentle awakening in the morning, and a gentle pattern of darkness as it dims during the sunset.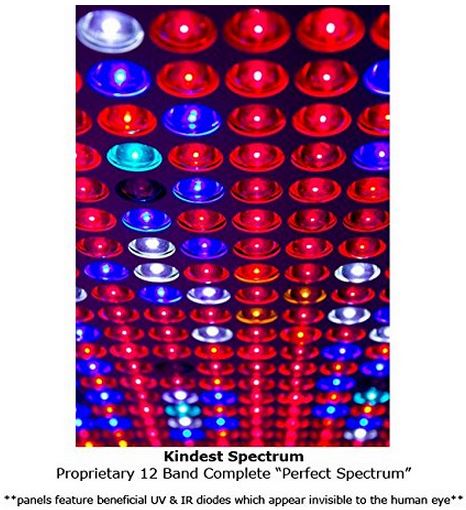 Mixture of 3 and 5 Watt Diodes
In most all of the latest LED grow lights that are on the market, you'll notice the manufacturers always listing the wattage rating of the individual diodes. 3 watt diodes run a bit cooler, whereas 5 watt diodes run a bit warmer since a bit more energy is driven to them in comparison to the 3 watt diodes. To help assist with creating an ideal configuration, Kind blended a fine balance of both wattages to make certain that overheating is never an issue.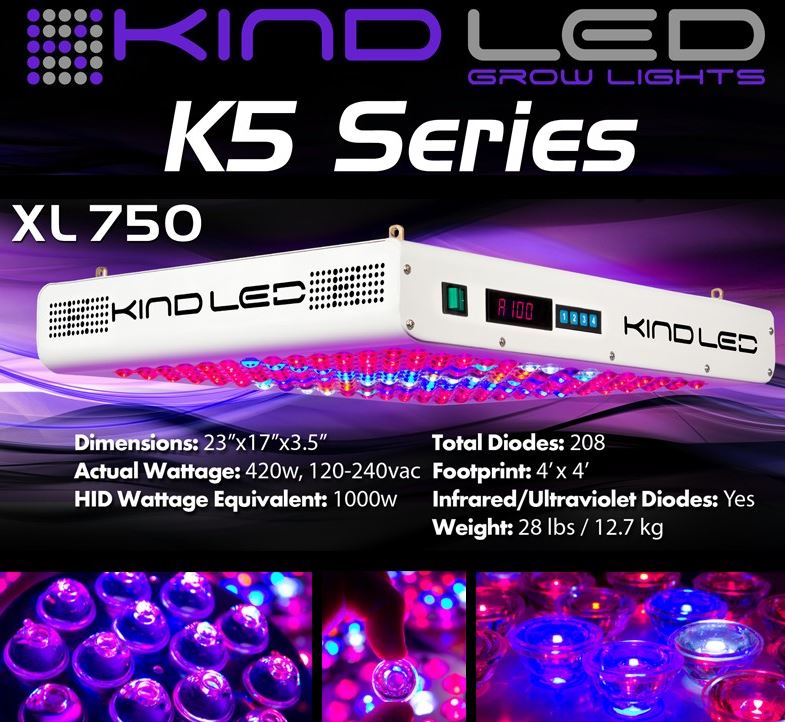 Cooling and Heat Management
When operating any kind of electronics in a small or enclosed environment, heat management needs to be taken into serious consideration. This holds true with any LED grow light since a close configuration of many small electronic parts is always a norm. The Kind K5 XL750 LED Grow Light contains four large diameter ball-bearing fans that are constantly running over an array of heatsinks to provide ample heat dissipation for the entire duration of the light cycle. Each one is ventilated through the top panel as they blow a gentle breeze to make certain that overheating is never a problem.
Specifications
Size: 23″ x 17″ x 3.5″
Weight: 28 lbs.
Actual Wattage: 430 watts
HID Equivalent: 1000 watts
Number of Diodes: 208
Diode Wattage: 3 and 5 watt
Coverage: 4′ x 4′
Input Voltage: 100-240V AC
Output Voltage: UL Standard Output Voltage – Less than 76V DC
Work Frequency: 50/60 Hz
Amperage: 3.58
Warranty
When spending money on a grow light, warranty can be a major factor to consider. If there's no warranty included, it could be a red flag to stay away. Luckily, all of the Kind's fixtures come with a 3 year warranty. If anything malfunctions, contact them and they'll take care of you.

Remote Control
One really cool thing about Kind's LED grow lights is the free remote control that each of their panels comes included with. This way, when the panel is setup and operating in the growing environment, you don't have to reach over or underneath your plants to adjust the settings that the panel provides.
Footprint
The amount of coverage or footprint is a major factor to take into consideration when searching around for the best led grow light for your purposes. The Kind K5 XL750 provides a growing area up to 4′ x 4′ with enough intensity to bloom massive harvests.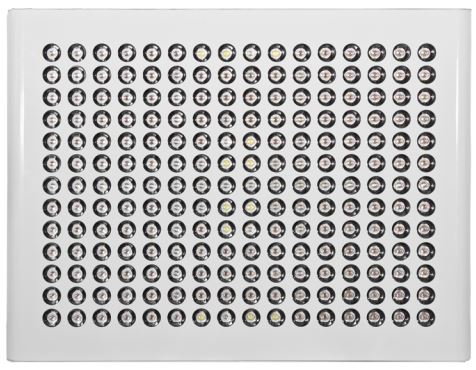 What We Didn't Like
When all things were considered, it was kind of hard to find something to complain about. However, one small qualm we had is the weight of the fixture itself. It weighs just over 28 lbs. which is quite heavy. Although the design keeps it sleek and slim looking, it has a bit of weight to it. This isn't really a big issue for many growers, just make sure that your grow tent or green house is capable of holding it.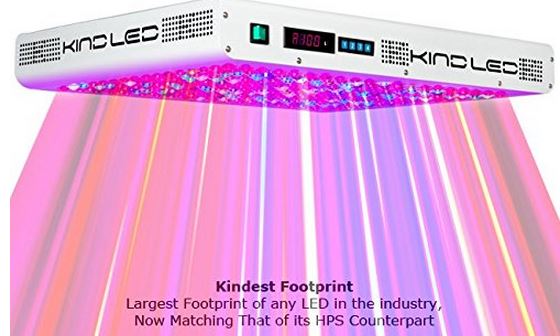 Conclusion
Overall, we have to say that the Kind K5 XL750 LED Grow Light provides a great solution for growing indoors with LED. Not only does it provide massive harvests, it's built for efficiency and loaded with several high end features that set it apart from the competition. Although the initial investment can be steep to some, the payoff it has to increase yields and boost overall potency is truly what makes it stand out.