Kind K5 XL1000 LED Grow Light Review
|
The truth is, everyone wants the absolute best led grow light that they can get their hands on. If you want one that's going to perform fantastically and truly replace a 1000 watt HID, a reputable LED manufacturer Kind, has introduced the K5 XL1000 LED Grow Light as their 'holy grail' panel that provides the best footprint, intensity, spectrum, with plenty of reliability. Although it comes at a hefty price tag, it's sure to be one of the best led grow lights that you can own.
Coverage
With any grow light, it's incredibly important to know and understand the amount of coverage it has. This is the area that can effectively grow through both veg and flower. With the K5 XL1000, it should be ideally setup in a 5′ x 5′ area. This will provide the best results.
Energy Efficient
Although it fully replaces a 1000 watt lamp, it only uses 650 watts from the wall. This is the total drawn power that it consumes while it's operating. This is around 1/3 less energy, with no need for a ballast or bulb changes. In the long run, the Kind LED grow lights are all designed to save you money and boost reliability.

Utilizes Both 3w and 5w Diodes
Comprised of a unique blend of 3 and 5 watt diodes in order to create the perfect environment for flourishing growth with massive yields. By mixing up the diodes in this manner, it operates much cooler, but still offers plenty of light penetration into the canopy of leaves and flowers below. Kind would like to call this blend a 'sweet spot' with the perfect combination of diodes.
Fully Customizable Spectrum
Many are pleased to find out that they can fully customize the spectrum of the panel. This way, you can create the specific spectrum of your choice for either vegetative of flowering stages. It comes included with 12 bands including UV-A and UV-B and IR. You can turn on and off a mixture of bands to make a specific blend for a specific kind of plant.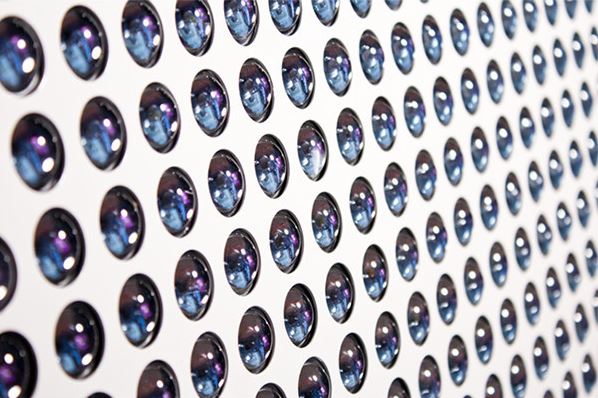 Cool Operation
With 8 internal cooling gans, and large aluminum heatsinks, it stays cool and at a favorable temperature in a variety of environments. It doesn't create anywhere near the same amount of heat as your typical HID lamp, but it still creates a bit of warmth which most plants love. It's easy to keep your growing environment at an appropriate level since the cooling has been adequately thought out already by Kind.
Reliable and Trusted
Kind is a company that has retailers all over the United States selling their panels. They pack the XL1000 with a generous 3 year warranty to give their consumers peace of mind about their investment. They're easy to contact via phone or email support, and can be reached during normal business hours for any questions, comments, or concerns.
Mimics Mother Nature
One of the coolest and most innovative features of the Kind K5 XL1000 LED Grow Light is it's ability to act just like mother nature. There is a feature called the 'mother earth' timing function that will gently turn the lights on and off throughout the daylight hours of your growing environment. With 8 seperate stages, it's designed to mimic sunrise and sunset, while delivering the most intense amount of light in the middle of the day – just like the outdoors.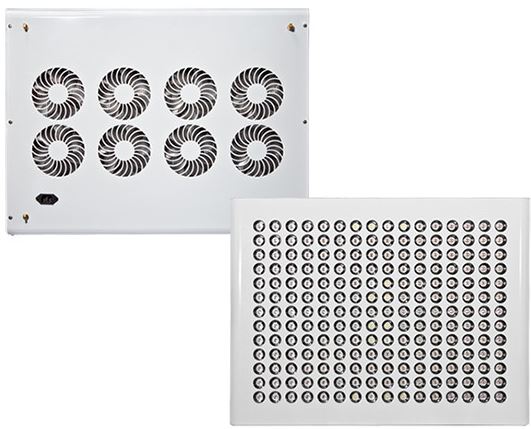 Remote Controller Included
Included is a small remote that enables growers to remotely control the panel, so you don't have to dangle over a fragile canopy and risk damaging your plants. This remote can be used for as many as 100 different panels so it's perfectly suitable for even the largest indoor growing environments.
Looks Nice
There's no debating that Kind produces some sexy looking led grow lights. Everything from the case to the specifications are designed to function well, but also look nice. It's a nice added touch that they decided to put extra thought into it's sleek and modern design.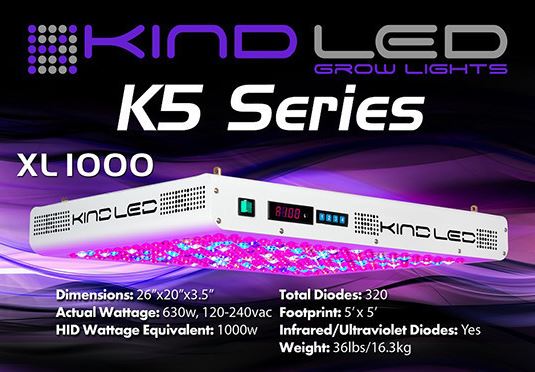 Overall Thoughts
With the largest footprint for a single panel on the market, the Kind K5 XL1000 LED Grow Light provides outstanding features that truly lives up to the hype. It's their most sought after model with a beautiful design that guarantees bountiful harvests of lush and enormous fruits, veggies, and flowers. Additionally, it's backed by an impressive warranty and comes with a remote controller as well. Overall, a smart choice for anyone looking to increase yields, boost efficiency, and invest in one of the best led grow lights of the year.