Heliospectra LightBar (V101G) LED Grow Light Review
|
It's no secret that Heliospectra is one of the most advanced companies on the market when it comes to designing, manufacturing, and selling some of the industry's best LED grow lights. Founded in 2006, they've been one of the leaders in intelligent lighting technologies by coming up with fixtures that assist growers with plant research and indoor cultivation. Their latest release, the Heliospectra LightBar (V101G) LED Grow Light has just become available for pre-order. We decided to do some research to understand and share what it has to offer those who are looking to increase their production while boosting all around efficiency in their garden.
Vertical Farming
The Heliospectra LightBar (V101G) is the companies first product to be specifically developed for vertical growing. Although not quite as popular as traditional growing, vertical growing tends to offer an advantage by allowing your garden to come in contact with more direct lighting, which can drastically increase yields and production if done correctly. The simple nature of vertical farming allows there to be more "farmed surface area" than your typical horizontal setup because of the way the garden is setup. It's the perfect solution to utilize the most space possible, all while increasing crop production year-round.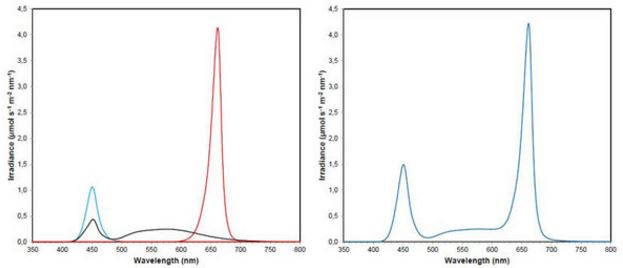 Spectrum
Although many other fixtures that are sold by Heliospectra are available in multiple spectrums, the V101G LightBar is sold in a non-adjustable version of the "G" plate spectrum. This is the original spectrum that they developed when the company was started in 2006. Since then, it's been fine tuned to grow a wide range of plants, herbs, and flowers. Providing the highest PAR output available, the "G Plate" is acceptable for all stages of growth, whether they're vegging or blooming. Comprised of a blend of blue (450nm), white (5700k), and red (660nm), it emits a strong, evenly distributed band of light with the use of 48 individual diodes.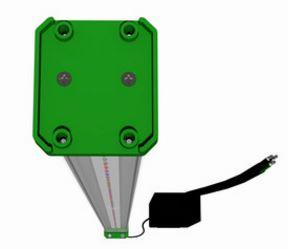 Power Consumption
The wattage that a fixture uses from the wall outlet is often an important aspect to take into consideration when you're looking for a new fixture for your indoor garden. The Heliospectra LightBar uses 92 watts with a voltage of 120-277VAC, 50/60 Hz. With optional dimming from 5 to 100%, you can expect the wattage to increase or decrease depending on what you have it set at. However, either way the fixture uses a very low amount of power in comparison to any HID or high end LED grow light, which is ultimately a good thing.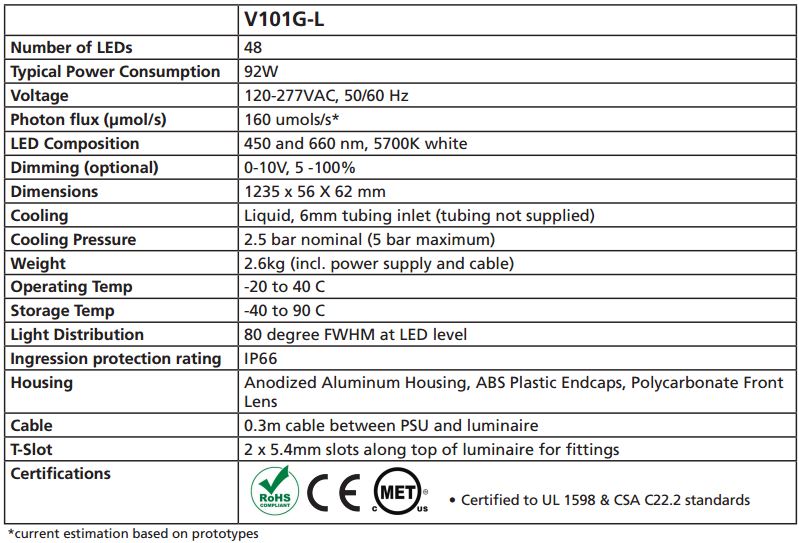 Cooling
The heat management in an LED grow light is very important since it usually equates to overall efficiency and longevity. If you have a powerful grow light with insufficient cooling, it won't last more than a few days since the heat needs to be managed properly. Without a smart cooling system in place, the fixture is as good as dead. Thankfully, Heliospectra knows this all too well and made certain that their new LightBar was equipped with adequate cooling capabilities.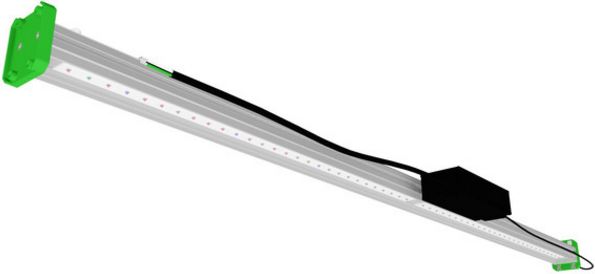 Internally, there's a unique system that offers both water and air cooling at the same time. On the end there is a small 6 millimeter tubing inlet that a water cooling system can be configured with. However, the tubing isn't supplied, so you'll need to pick some up if you plan to water cool the fixture. Although there aren't fine details currently available as to how exactly this cooling system works, we trust that Heliospectra has done a great job incorporating it into their fixture.

Durability
It's no secret that inside of a grow room, humidity and moisture can be a real problem – especially when it comes into contact with electronics. Heliospectra designed the V101G LightBar so that it meets all IP66 standards for waterproof resistance for these unique environments. The anodized aluminum housing provides a sturdy and safe enclosure for all of the inner-workings to coexist and function flawlessly. Each end is equipped with an ABS plastic cap, and the lenses are covered in a polycarbonate material that protects the diodes from coming into contact with moisture. With an operating temperature ranging from -20 to 40 C, and a storage temperature ranging from -40 to 90 C, it can be operated in a wide range of environments without any malfunctions.
Final Thoughts
Recently, Heliospectra received a $229,000 order for their LightBar (V101G) LED Grow Light from a large European greenhouse grower. The installation of this first major order is expected in December of 2015, but the company projects that it will receive many more large orders in the coming years. After all, according to Markets and Markets, the Smart Greenhouse market will likely grow to 20 to 30 percent within the next 4 to 5 years.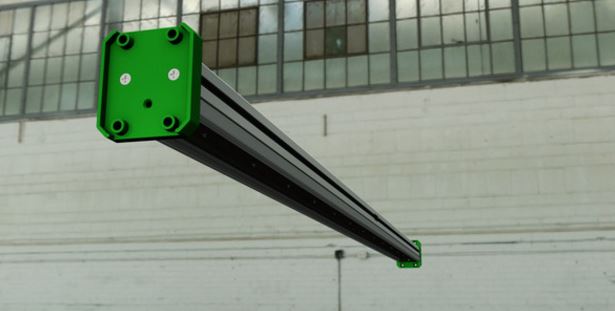 At this time, the Heliospectra LightBar (V101G) is only available for Pre-Order, but we're anticipating a full release of this fixture as time goes on. Since it's available in both 48 and 72 inches, there seems to be a size for any size garden. And since it's the first of it's kind for vertical farming, we wouldn't be surprised if Heliospectra sees more larger purchase orders in the near future.
Overall, we really like the LightBar since it seems to have a lot going for it. High intensity, uniform light distribution, and an optimized spectrum for all stages of growth, it's the perfect fixture for vertical farming whether for both industrial or hobby applications. Additionally, it's covered by Heliospectra's impressive two year warranty that protects it from defects in the material and workmanship under normal use. Full details regarding this warranty are available on their website.