California Light Works Solar Storm 880w LED Grow Light Review
|
The California Light Works Solar Storm 880w LED Grow Light is one of the most powerful LED grow lights available on the market today. It was designed to improve crop potency and provide you with high quality yield, made possible by its optimized and adjustable color spectrum. It has a UVB feature and Dual Spectrum switch that allows you to change the color spectrum as required by the plants.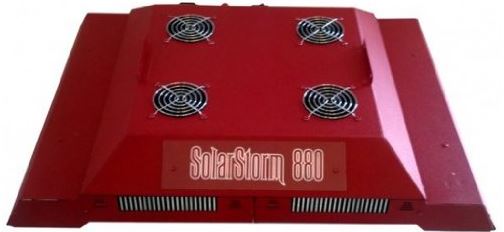 In Bloom Mode, the spectrum comprises of intense levels of deep red and red with the right balance of deep blue and blue for the growth of the bloom.
In Veg Mode, the spectrum comprises of high levels of deep blue and blue with the right balance of deep red and red to enable massive vegetative development without stretching them.
The UVB feature is designed for the finishing phase to further increase crop potency.
Product Features
176 x 5w LED bulbs producing 800w of intense lighting
High photosynthetic photon flux that gets deep into the plant canopy, producing a PPF higher than that of a 1000w HPS grow light system
4' x 4' coverage area for flowering plants
5' x 5' for vegetables and non-flowering plants
50% power savings with the use of an HID lighting system
2 x 15w T8 fluorescent light tubes producing the UVB feature for higher crop potency
Dual color spectrum design – Veg Mode and Bloom Mode
Designed and made in the USA
Efficient heat management using the large heat sinks and 92mm integrated fans
Fully integrated, highly efficient power supplies
18" x 18" in LED panel area for a uniform light spread
Measures 23" x 18" x 5" in dimensions.
More than 80,000 hours of expected lifespan
-15 to 40 degrees Celsius in operating temperature
3-year warranty
6063 aluminum and sheet metal coating with sealed electronics section
Light facing down position for the bulbs
Uses 475 watts in veg mode. In bloom mode, it consumes around 680 watts with the UVB turned on.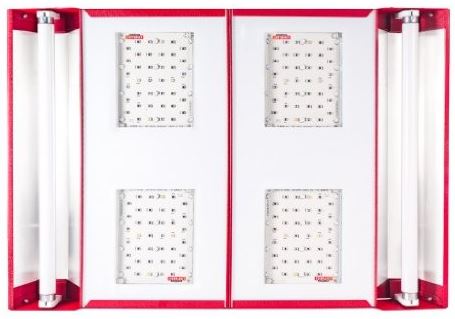 Pros
There are many great features in SolarStorm 880w, but its high lifespan rating is one of them, having over 80,000 hours of expected lifespan. This lifespan is about two times longer than the lifespan of other grow lights.
Their super high flux LED diodes are among the top grow lamps in the business and there are 176 of these bulbs in the system.
Their high efficiency rating is worth noting as well. SolarStorm 880w operates at about 90% efficiency.
The high PAR output of this grow light, which is 25% more than in other products, is great for deeper penetration of the plant canopy.
The dual spectrum feature of SolarStorm 880w was designed to imitate the natural growing process outdoors. When combined with some fluorescent lights, the crop potency is significantly improved.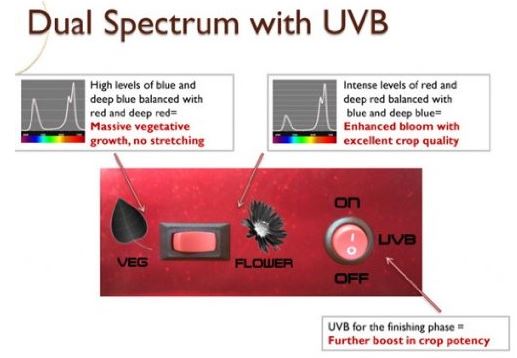 Cons
The biggest drawback in using SolarStorm 880w is its price, which is around $1,799. Some growers may not be able to afford it, but others can justify it knowing that they can easily recoup their investment with just a single grow.
Final Recommendations
If you want the best grow light for your plants, with all the amazing features, such as dual spectrum and UVB for increased potency, extra long lifespan, and high quality LED diodes, then the California Light Works SolarStorm 880w Grow Light is it. However, it comes at a premium price tag, which is still worth paying for, given the help that it can give you and your plants.