BML Horticulture Spydr 1200 LED Grow Light Review
|
BML calls themselves the LED Leader in Horticulture Lighting Systems. If that's the case, the Spydr 1200 LED Grow Light should be a fantastic option for those looking to replace a 1000 watt HID – correct? Yes. We've had our chance to test out and review this top of the line fixture from BML, and we have great things to say about it.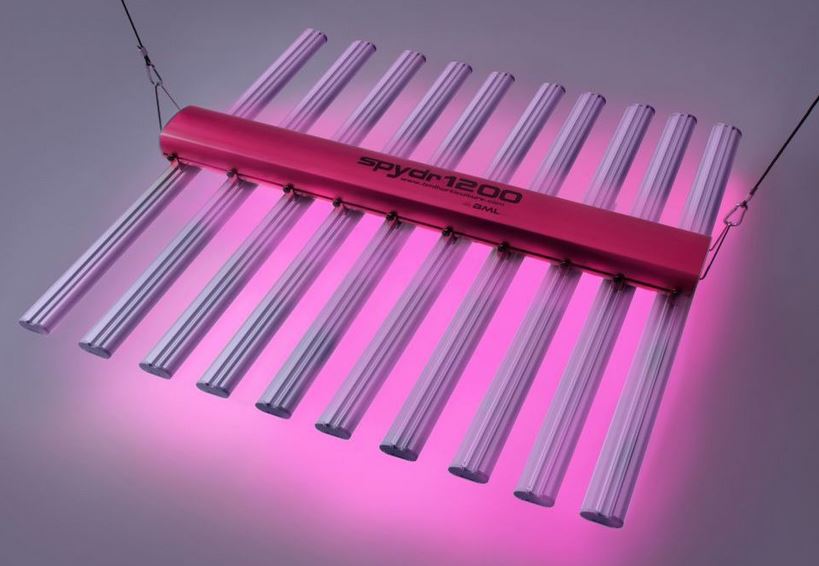 As it's built exclusively for commercial growers, the BML Horticulture Spyder 1200 is ETL Certified to UL Safety Standards and is credited as the world's first true LED placement for 1000 watt double ended HPS lighting systems. In fact, the spectral readings show that it gives out higher PAR than your best HID setup, while using over 30 percent less energy and producing significantly less heat. These are all things that any grower would love to hear, so we had to try it for ourselves.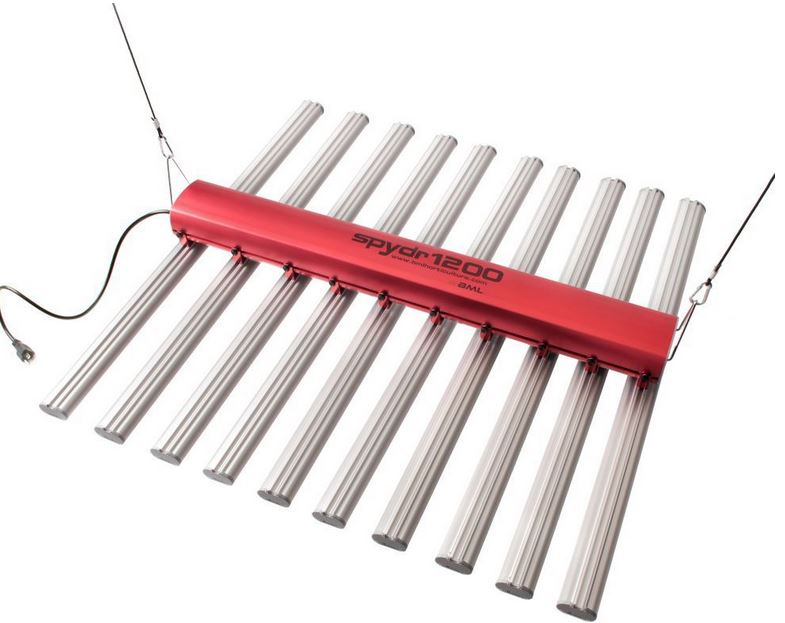 We previously reviewed the BML Spydr 600 and were huge fans of what it had to offer. The 1200 is a doubled up version of the 600 with twice as much light to produce more intense light that's suitable for covering any 4′ x 4′ flowering area in your garden. The 600 has 6 light bars where the 1200 has 10 packed into the same area. What's unique to this design is the tool-less adjustment on each fixture that slides on a track so you can spread or focus the light in a smaller area. Each of these bars measures 36 inches long and has an assortment of top-bin LEDs from Osram. There are 44 diodes on each bar, and 440 total among the 10 bars. This gives some of the most even and uniform PAR readings that we've seen out of most designs. Think about it – let's say that you're growing in a 4′ x 4′ area. The Spydr 1200 measures 3′ x 3′, leaving only a few square feet in your garden without a light fixture directly above it. This spread of light is crucial for avoiding 'hot spots' or areas that are much too intense.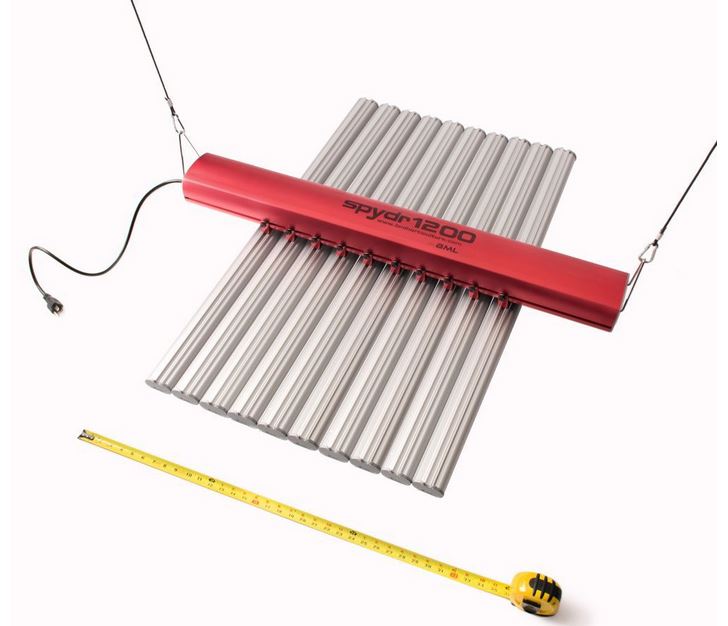 Optimal Cooling Without Fans
One of our favorite things about the BML Spydr 1200 is it's ability to fully function with ease, without the use of fans. The design allows the heat to be dissipated properly without the need for additional fans that are constantly spinning. The heat that this fixture emits isn't much. They've done a fantastic job at designing a 1000 watt replacement without incorporating additional cooling, because it's simply not needed. This makes for a much quieter growing space with less of a chance for failure. We've seen fixtures in the past loaded up with fans, only to have them die without knowing, and then in-turn frying out the inside over time. This won't be the case with any BML Spydr series lamp, it's really quite amazing that they've managed to control the heat so uniquely.
Power Consumption
Power consumption is a huge factor for most growers because let's face it – energy costs money, and money thrown out the window is something that everyone wants to avoid. LEDs are designed mostly around efficiency and longevity. Although the PAR readings of the Spydr 1200 exceed any 1000 watt HID, it uses a significantly less amount of wattage. From the wall, it will pull right at 670 watts. That's about 30% less energy which will make for a 30% decrease in monthly expenses. If you're running a large indoor garden, you should notice a smaller energy bill each month.
Build
Constructed from an aluminum alloy chassis, immediately out of the box, you'll know it's a solid piece of equipment. The case is spray-proof, easy to clean, and made with polycarbonate for long lasting strength for several years to come. Weighing in at just over 30 lbs, it's easily installed to any supportive structure with the use of aircraft cable hangers. For an additional $18, they'll include an adjustable aircraft cable hanging kit.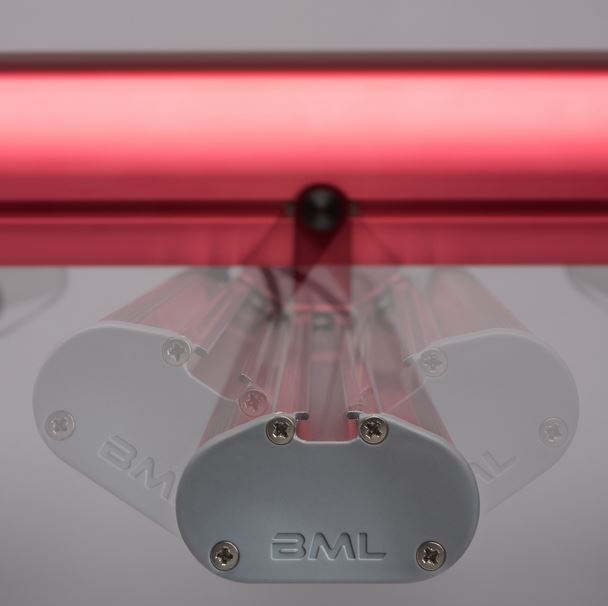 Spectrum
The Spydr 1200 is built with the GROW-MAX spectrum that's effectively suitable for both vegetative and blooming growth. The blend of light consists of (67%) 660nm Deep Red, (13%) 625nm Red, (13%) 6500K Cool White and (7%) 450nm Royal Blue, giving it a unique purple-like hue that functions perfectly for producing heavy yields of superb quality. Each of the diodes on the fixture are rated for 3 watts, but BML specifically doesn't drive them to their full potential. They do this because if they did, they would burn out and fail well before you'd expect them to. They make certain to not overdrive them so that the lamp will always perform like new. In fact, it has a 50,000 hour projected lifespan, making for a perfect solution for those who want to grow with an industrial grade light for several years down the road.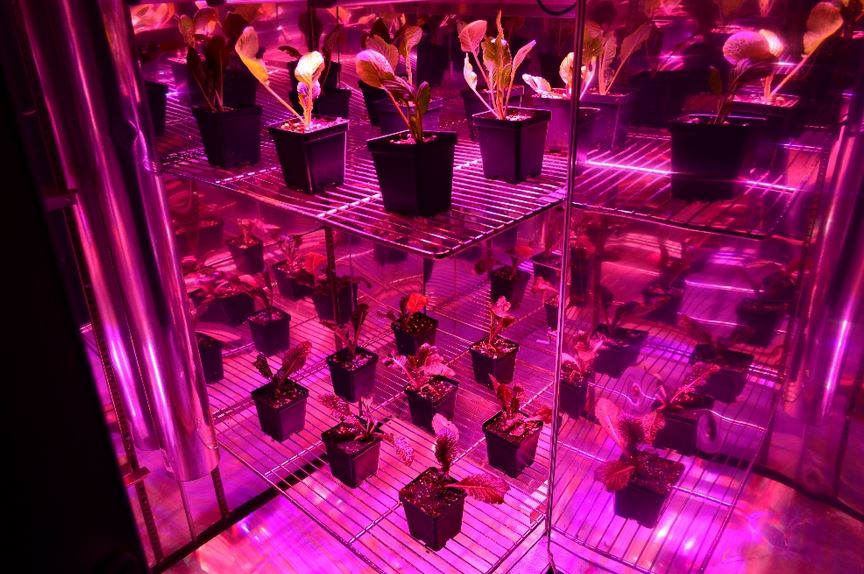 Guarantee
BML Horticulture does a lot to assure their consumers that they're making the right choice in purchasing one of their grow lights. Each lamp is engineered and built in the United States from the time you order. This way, much more quality control goes into play instead of mass production. All of BML's fixtures are guaranteed for three years against defects. They make a strong effort to stand behind their products and are always available by email or phone for any inquiries or arrangements.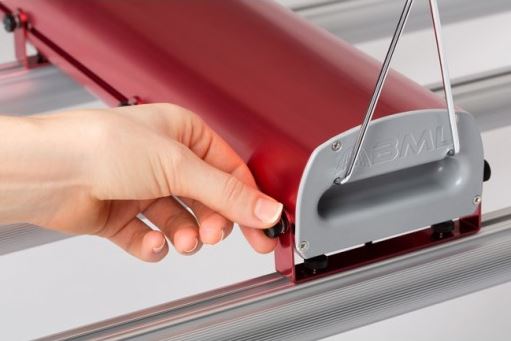 Overall Thoughts
Overall, we have to say that we're really big fans of BML Horticulture and what they've done with the Spydr 1200 LED Grow Light. It's a substantial upgrade to any 1000 watt HID, and those are truly hard to come by. They thought, quality, and production that goes into each and every one of their grow lights is seen right from unboxing. Although it's definetely not the most inexpensive grow light on the market, it's one of the best and a surely excellent pick for any professional or industrial grade horticulturist.