Area 51 W90 LED Grow Light Review
|
Area 51 has long been known for creating some of the highest quality leading LED grow lights available. They always seem to be on the cutting edge of LED growing and are always offering their newest technology at fantastic price points. This holds true with their latest lamp, the W90, which is set to release within the next few weeks at a low price of $174.00. In fact, it's their most inexpensive and smallest model that they've ever released. Needless to say, we're incredibly excited and have already put in our pre-order. Let's take a closer look at what it has to offer.
Small with Big Potential
Although the Area 51 W90 appears to be much smaller in size than anything we've seen from them before, it has a fantastic footprint and growing coverage. Measuring in at just 11.25″ wide, 6.75″ long, and 3.125″ thick, it appears to be lightweight and efficiently sized. But don't let the small size fool you. It's fully capable of flowering within a footprint between 18″ x 18″ and 24″ x 24″, with an ideal footprint closer to 20″ x 20″. As for vegging, it's coverage is actually quite impressive. The recommended veg footprint is 36″ x 36″, making it fully capable of small to mid-size grows where quality is of utmost importance.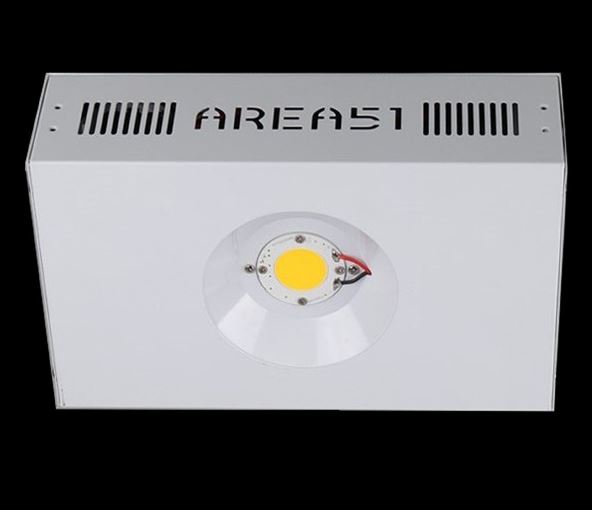 Bridgelux Powered
Powered by Bridgelux Vero 29 v2 at 4000k, it's equipped with a spectrum that does well for all stages of plant development and growth. Using just 95 watts of power consumption from the wall outlet, you won't notice a huge increase in your utility bills since most LED grow lights in this range can easily use twice as much. With LED growing, we're always looking for incredible efficiency and low power consumption – the W90 appears to have it both.
Cooling
With any grow light or in fact, any electronic piece of equipment, cooling is a serious consideration to look into. If proper cooling isn't adequate, it simply won't function as designed and can literally burn out and fail. Luckily, Area 51 knows the importance of this and made sure to equip the W90 with all of the sufficient cooling that's needed. Internally, there is a large finned aluminum heat sink and one large 120 mm ball bearing fan that is constantly spinning to promote a constant flow of air. The fan is designed to move 73 cfm of air at 10 dba, meaning it runs quite and cool at all times. In fact, the operating temperature typically operates at a few degrees warmer than ambient temperatures in your grow room. You can expect a range from 77 to 86 degrees Fahrenheit if you keep your grow room between 70 and 77 degrees.
The Looks
Although Area 51 has only released a single image of the W90 as of now, it's a "prototype" image that doesn't fully represent the production models that will actually be sold. Don't worry though, it shouldn't look much different. In fact, they will be painted a maroon color with a titanium white reflector. When more images become available, we'll be sure to add them here.
Reflectors
Efficiency is incredibly important when growing with LED. You don't want to be paying for any light wasted so it's crucial that reflectors come standard with the W90. Centered around the beam of light in the center is a cupped reflector that catches stray beams of light and directs them down toward the canopy of your garden. This reflector is designed to correct the angle and offer 90% reflection for the most efficiency possible.
Daisy Chain
Any growing area should have some sort of way for expansion. Usually growers start small to perfect their system and then scale as their success grows. Scaling your grow is easy with the W90 since you can utilize the daisy chain feature to connect up to 16 individual panels and have a single power cord plug into the outlet. This keeps things incredibly clean and makes sure that cables and wires aren't ever a huge nuisance. Just be sure to check your circuit breaker before connecting a bunch of units together because the last thing you want to do is overload and blow a fuse or breaker.
Final Thoughts
It's nice to see such an affordable, high end LED grow light at such a low and affordable price point. The Area 51 W90 is built with superb features that look downright promising for growers looking to expand their garden or new growers that want to test out LED technology to see what it has to offer. Although it's not officially set to release until around August 24th of 2015, you can now pre-order it through their website at anytime. We've gone ahead and placed our pre-order and we're insanely excited to get our hands on it for ourselves and test it out in our garden.