Apollo Horticulture Purple Sun COB Full Spectrum 300W LED Grow Light
|
Apollo Horticulture has long been a trusted name to go by when it comes to LED grow lights. They've been in the horticulture business for some time now and recently released one of their latest and greatest technologies that consumers can now own and operate in their garden. Introducing the Purple Sun COB Full Spectrum 300W LED Grow Light. It's an affordable and effective unit that boasts power and performance compared to more expensive options.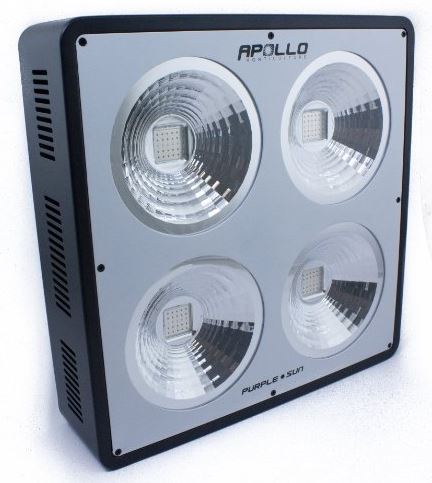 Key Features
Uses COB technology. There are four 75 watt COB pieces per panel, providing plenty of light for both vegging and flowering all kinds of indoor plants.
Incredible lifespan of 50,000 hours. Much longer than your typical metal halide or high pressure sodium lamp.
Multiple light spectrum of 440nm, 465nm, 510nm, 635nm, 660nm which covers a wide array of light that plants utilize to grow healthy and flourish.
Comes included with a 6 foot power cord and a set of stainless steel hanging clips to suspend your panel from the grow tent or greenhouse ceiling.
Small size of 12.25 inches x 12.25 inches x 3.62 inches takes up little area. No additional cooling is necessary which makes it an excellent option for those who may be interested in a small closet or stealth grow.
Working voltage of 85 ~ 265V so it can be used in multiple countries without discrepancy.
Working environment of -20C ~ 40C. You can use it in virtually all indoor conditions.
Runs Cool
In many scenarios, heat can be a very devastating issue to have to deal with on a constant basis. With the Apollo Horticulture Purple Sun COB, it runs at such a cool temperature that you won't need to spend more money on air conditioning, excessive fans, etc. Expect big changes in your growing environment when you add this to your arsenal.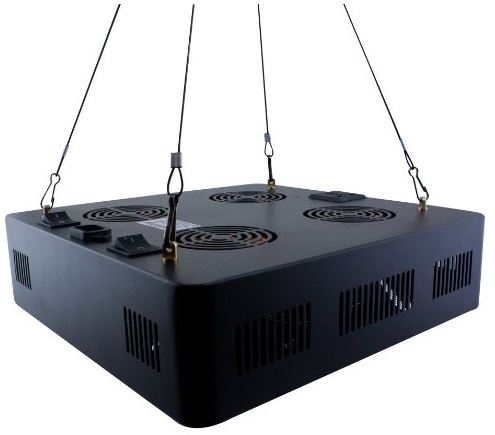 Coverage and Hanging Height
A top priority for most before making the ultimate decision to grow with LED lighting is the amount of effective coverage they can expect with the panel. This 300W panel covers an area of approximately 3 x 3 feet while vegging plants and 2 x 2 feet for powerful flowering if you want a large harvest with a quality outcome. Buying multiple panels or upgrading to Apollo Horticultures 768W panel may be something of interest if you are planning on needing light coverage for a larger square footage.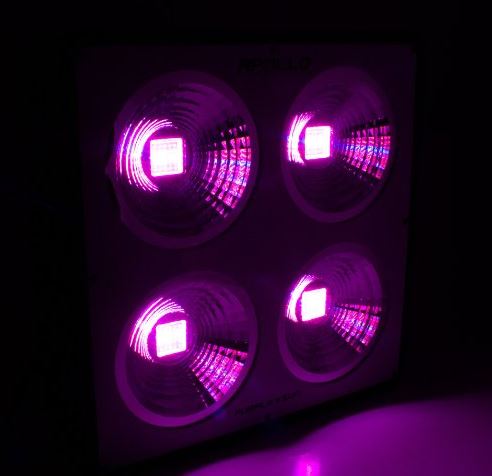 The manufacturer recommends that the 300W panel be hung 0.5m to 1.5m away from the plants for best results. It's pivotal to listen to their recommendations since having the light too close or too far away may cause issues with proper growth and development.
Optical Reflectors
Each COB is equipped with a optical reflectors that maximize the amount of PAR (Photosynthetic Active Radiation) is given available for the plants to use. It's designed to enchance the light in it's best form.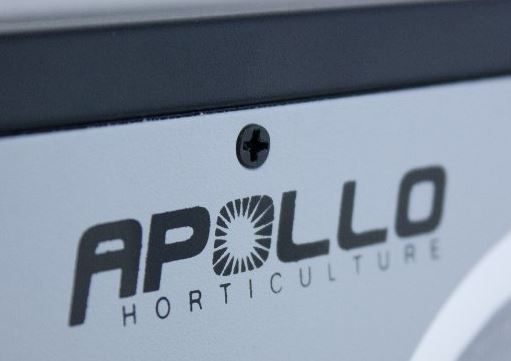 Incredible Heat Dissipation
When selecting which LED grow light panel to invest in, it's important to make certain that the panel has proper heat dissipation. If it's built without the proper heatsinks, fans, and cooling, it can overheat and ultimately be at your expense a few months down the road. Luckily, the Apollo Purple Sun COB 300w panel is built to combat heat in the best way possible. Although it runs very quietly, it's packed with the proper heatsinks and fans to keep it operating efficiently.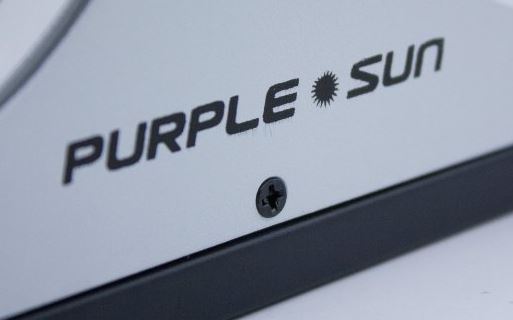 Performance
You can expect the Purple Sun 300w LED grow light to perform compared to a 400w metal halide or high pressure sodium light system, but use much less electricity in the process. You won't need anything additional. No bulbs. No ballasts. Everything to get started growing with LED is included.
Final Thoughts
Overall, the Apollo Horticulture Purple Sun COB Full Spectrum 300W LED Grow Light is a great, budget-friendly product that is great for increasing efficiency and providing the results you want. We think it's perfect for small to mid-size grows. For larger results, see their 768w version that looks very promising.